Fun to Drive
Minneapolis, Minnesota
- Thanks to the highly economical Versa, Nissan is basking in a 73-percent increase in their Canadian sales so far this year. They hope to sustain this trend with the introduction of the 2008 Altima Coupe. Although this sleek competitor to the Honda Accord and Toyota Solara carries the Altima name, when it comes to body panels, only its hood is shared with the sedan; everything else is new.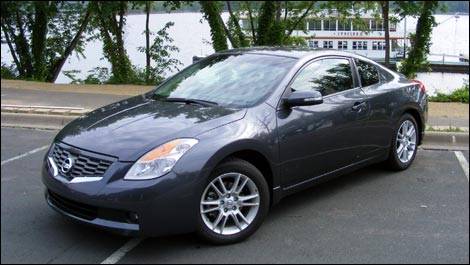 The all-new Altima coupe looks great from all angles.
Not just a two-door version of the sedan
Nissan attempted to emphasize the sporty nature of its Altima Coupe with distinctive styling while being true to the Altima's branding and identity. I think they pulled off such a heist. The car looks great from all angles, particularly the rear where its broad shoulders impart a wide, stable stance.
Accompanying the new glass and sheetmetal is a completely new platform, which Nissan has tagged the "D" platform. It's shorter than the one underpinning the sedan, and includes new suspension components and calibrations engineered to deliver spirited handling.
More power than Honda and Toyota
Putting soul into the new Coupe is a pair of Nissan stablemates that have undergone some further refinement for '08. The base powerplant is a DOHC, 16-valve four-banger displacing 2.5 litres and developing 175 horsepower @ 5,600 rpm and 180 pound-feet of torque @ 3,900 rpm. That exceeds the ratings for the I-4's powering the Solara and the Accord coupes.
The same power advantage applies to the optional V6 engine as well. It displaces 3.5 litres and dispenses 270 horsepower @ 6,000 rpm and 258 pound-feet of torque @ 4,400 rpm. Unlike its competitors though, both Altima engines are mated to six-speed manual gearboxes or automatic, Continuously Variable Transmissions (CVT). With cautious optimism, I was eager to sample Nissan's CVT, which they espouse to be highly sophisticated.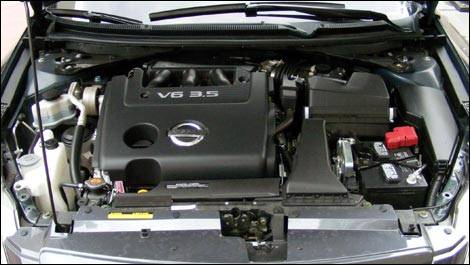 Nissan's powerhouse 3.5L V6 puts out 270 hp; more so than any of its competitors.