Road tests often hold a few surprises. For instance, I would have never imagined that I could have as much fun driving a 2009 Chevrolet Malibu 2LT, the ideal representative's sedan. During a 1,200-km road trip in some of the worst conditions you will ever see, I discovered a major difference between this midsize car and its green counterpart, the Malibu Hybrid.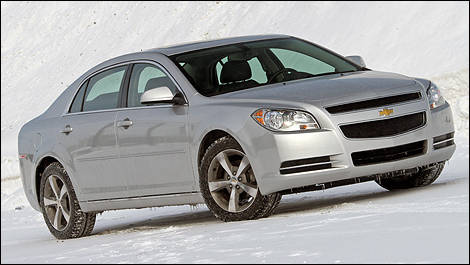 The 2009 Chevrolet Malibu 2LT stands out with a well-executed, head-turning design.
As I took delivery of my tester, I was planning to compare this Malibu with a similarly-powered
Toyota Camry
or Honda Accord. In reality, there are three things that set the American sedan apart, starting with interior soundproofing, which is surprisingly good. The new Malibu now compares favorably to a Camry.
In terms of driving dynamics, my 2LT tester also scored a lot of points. The smooth, pleasant ride is delivered by a nicely-calibrated suspension, progressive brakes that are easy to modulate as well as a power steering that's not overly assisted (unlike the Malibu Hybrid's). As a result, the regular Malibu is pretty enjoyable to drive, arguably more so than the Toyota which feels too disconnected from the road, if you know what I mean.
Satisfying 4-cylinder
Before going any further, I must tell you that my tester was powered by GM's 2.4-liter, 4-cylinder Ecotec. This modest engine featuring variable valve timing is similar to many of today's powerplants. However, the automaker decided to match it to a new 6-speed Hydra-Matic 6T70 transmission on LT, 2LT and LTZ models. What a delight! This unit is superbly programmed and delivers buttery-smooth, almost seamless shifts.
What's more, it offers Driver Shift Control, a clutchless manual mode with little paddle shifters exactly where you'd want them behind the steering wheel. And off you go! If you so choose, this big American sedan will allow you to drive more aggressively so as to make optimum use of the 169 ponies under the hood. This setup is perfect for, let's say, downshifting just before entering a tight corner. Who would have thought that a Chevy Malibu could one day become that sporty?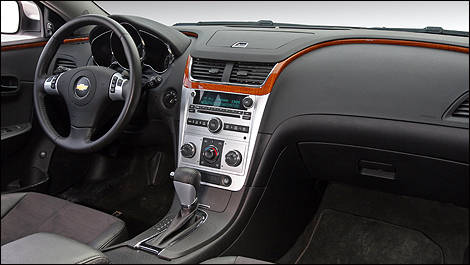 The striking, wrap-around curves on the dashboard are a direct nod to the 1958 Corvette.