Let's make it clear: a
Saab
is not your Average Joe's car. A bit like
Ferraris
, each model from this Scandinavian automaker has unique little quirks which require some getting used to. Brand faithful have no problem with that, while everybody else fumes.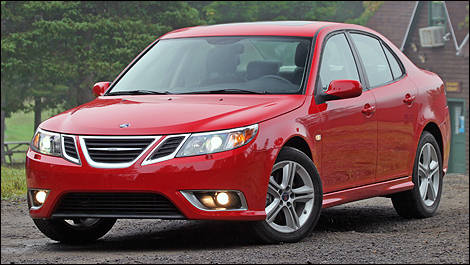 The Saab 9-3's styling is timeless -- further proof that a smartly-executed design ages well.
Up until now, I would have never imagined that a Saab interior could be as quiet as a BMW 335i's. Furthermore, when I first sat behind the wheel of the 2009 9-3 Aero XWD, I expected to feel overwhelming torque steer, especially when the turbo kicks in. My fears were quickly dispelled.
The once-plebian nameplate, which made an oddly upscale move that has yet to bear significant fruits, is now struggling for survival. Ineffective marketing and dilution of the brand's core values have affected its popularity and resale value. That said, the 9-3 has undeniable potential.
Actually, I was made aware of my tester's competent skills when I saw the three little letters -- XWD -- under the Aero badge. It's something we hadn't seen in a Saab yet but had been anticipating since the launch of the Volvo 850 AWD in the mid '90s: all-wheel drive.
Well, to be exact, Saab's technology is called "Cross Wheel Drive" and, sure enough, it elevates the 9-3 into the realm of luxury sedans. Despite jumping late on the bandwagon, the company is hoping to make its presence felt in this increasingly AWD-biased market segment. The junior Saab can now rival the
Audi A4
and other similar machines that are known the world over for their sensational all-wheel drive systems.
As mentioned earlier, this new addition largely if not totally eliminates the most irritating aspect of the regular 9-3 ever since the introduction of the first Saab 99 Turbo in 1978: torque steer.
Four-wheel spirit
Saab's Cross-Wheel Drive was developed by Haldex, a Swedish manufacturer that also supplies all-wheel drive systems to Volvo. Originally exclusive to the V6-powered 9-3 sedan and wagon with Performance Package, this fourth-generation system is finally available with the base 4-cylinder model.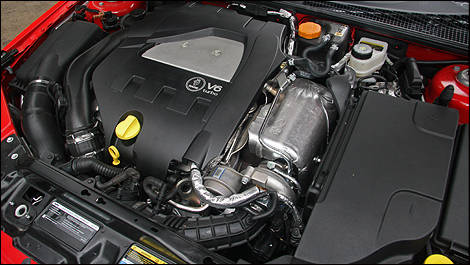 The turbocharged V6 of the 9-3 Aero XWD generates 25 hp more than the regular front-wheel drive variant.