It goes without saying that purchasing a Suzuki Swift+ is not an emotional decision. It's a matter of necessity. And yet, few people are buying it. Less than 2,000 units have found takers in Canada last year, while overall econobox sales amounted to over 150,000 cars.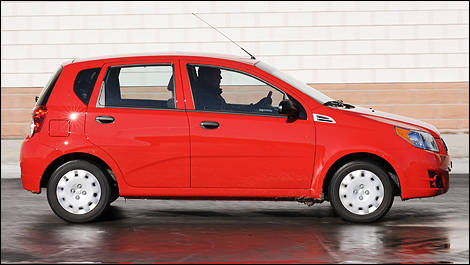 The exterior design is far from the most spectacular in its class, but the Swift+ can comfortably sit two adults and two kids.
This lack of interest isn't caused by a less exciting design than a
Toyota Yaris
or a less sophisticated construction than a
Honda Fit
. No, it's simply the result of most Canadians not even knowing it exists!
The Swift+ is clearly the lesser child in the Suzuki family. Dealers have all the reasons to put more emphasis on the
SX4
, even the base model, because it's roomier, higher-performing, more pleasant to drive... and more profitable to sell!
Winding path
The poor success of this subcompact car can also be explained by its seesaw history. The Swift nameplate isn't new; consumers should normally have heard about it as Suzuki has been using it ever since the Swift replaced the Forsa in 1989.
The thing is, the Swift+ is not a Swift. It's not the same Suzuki-designed model that's currently all the rage in Asia and Europe. The car we have here since 2004 is actually manufactured at the GM-DAT (formerly Daewoo) plant in Bupyong, Korea. Plus, it shares basically the same design with the Chevrolet Aveo5 and Pontiac G3 Wave Hatchback. In 2008, GM Canada sold over 8,000 of these, not to mention the 11,000 copies of the sedan variant, which is exclusive to GM.
An unfortunate series of events and coincidences has kept the "real" Swift from Canadian showrooms: the alliance between Suzuki and GM (which ended last November), the purchase of Daewoo by GM in 2002 and the expansionist designs of Suzuki in Europe which have monopolized its production capacity.
That's how a Korean-born subcompact found its way under the wing of Suzuki in Canada -- not in the U.S. The American branch rejected the Swift+ in 2004, arguing that their customers would find no interest in that model (at least back then!).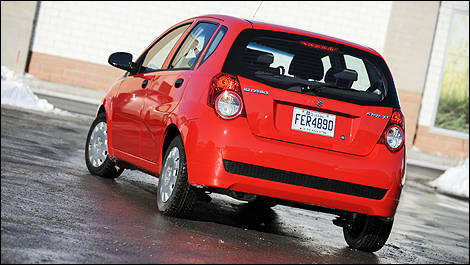 The car we have here since 2004 is actually manufactured at the GM-DAT (formerly Daewoo) plant.