Audi has the "A", Infiniti has the "G", "M", etc. and a whole slew of others have their own numbers and letters but Hyundai has "i". This series, which includes the i30 (our
Elantras Touring
), carries all shapes and sizes of Hyundai products. The latest version that we know of is the
ix35
, this time know as the Tucson. It's no secret that Hyundai is on fire World-wide (one of the few that can say-so along with Ford) and their latest
i-flow concept
proves the depth of their abilities.
i-flow - Hyundai's family futureAs reported by Hyundai
Making its global debut at the Geneva Show, the Hyundai i-flow concept car carries forward the company's evocative new form language, 'fluidic design'. The flowing, elegant lines not only create a futuristic shape, but also contribute to exceptional aerodynamics and help to reduce the car's CO2 output to just 85g/km.
Hyundai's first diesel hybrid powertrain is also a key factor in delivering such an environmentally-conscious performance, as is the application of next-generation materials and technologies developed in cooperation with leading chemical company BASF.
With an overall length of 4,780mm, a 2,800mm wheelbase, 1,850mm width and 1,420mm height give the i-flow a stance which is more akin to a coupe than a traditional D-segment saloon.
Under the sleek bonnet is Hyundai's first diesel-electric hybrid powertrain. It uses the exciting new 1.7-litre engine plus two-stage turbocharging linked to a Lithium Ion-Polymer battery to give a very efficient and advanced combination, particularly when partnered with i-flow's six-speed, dual-clutch transmission.
The i-flow's looks and technology point the way to a new D-segment family car which Hyundai plans to launch in early 2011.
New look i30
In the shorter term, Hyundai is also bringing new style to the C-segment with a revised version of its i30.
Entering production in March, the new i30 incorporates a wide range of improvements in design, specification and competitiveness.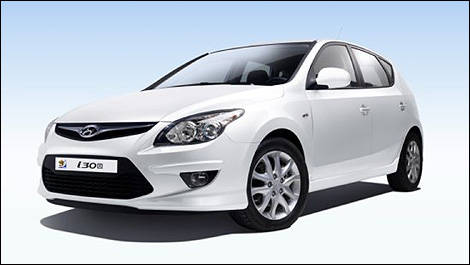 Hyundai i30 (photo: Hyundai)