The Porsche 918 Spyder will knock your sox off but keep them clean and smelling like roses.
Like us, do you miss the Carrera GT? Do you wish you had a second chance at getting your hands on one but, as money is no object, your only concern was the environement? Porsche has got what you need: A Spyder capable of a top speed of 198 mph (320 km/h) and gets a lap time on the Nordschleife of the Nürburgring of less than 7:30 minutes! The
918 Spyder plug-in Hybrid
is one sick-looking ultra-efficient car! This thing even has a Race-Hybrid mode!

As reported by Porsche
The 918 Spyder prototype combines high-tech racing features and electro-mobility to offer a fascinating range of qualities: An emission level of just 70 grams CO2 per kilometre on fuel consumption of three litres/100 kilometres (equal to 94 mpg imp) truly outstanding even for an ultra-compact city car, on the one hand, combined with the performance of a super sports car and acceleration from a standstill to 100 km/h in just under 3.2 seconds, top speed of 320 km/h (198 mph) plus, and a lap time on the Nordschleife of Nürburgring in less than 7:30 minutes, faster than even the Porsche Carrera GT, on the other.
The 918 Spyder is one of three Porsche models with hybrid drive making their world debut at the 2010 Geneva Motor Show. This trio - made up of Porsche's new Cayenne S Hybrid SUV with parallel full-hybrid drive, the 911 GT3 R Hybrid racing car with electric drive on the front axle and a flywheel mass battery, and the two-seater high-performance 918 Spyder mid-engined sports car with plug-in hybrid - clearly demonstrates not only the great bandwidth of this new drive technology, but also the innovative power of Porsche as a genuine pioneer in hybrid drive.
This open two-seater is powered by a high-speed V8 already featured in the RS Spyder racing car, developing more than 500 bhp and running at maximum speed engine of 9,200 rpm as well as electric motors on the front and rear axle with overall mechanical output of 218 bhp (160 kW).
Power is transmitted to the wheels by a seven-speed Porsche-Doppelkupplungs-getriebe also feeding the power of the electric drive system to the rear axle. The front-wheel electric drive powers the wheels through a firm transmission ratio.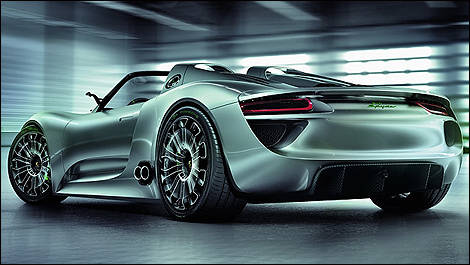 (Photo: Porsche)