Hyundai has established credibility and a burgeoning reputation by taking the big boys on head-to-head with less expensive examples of high-end machinery.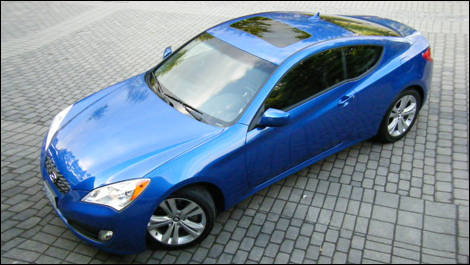 Buyers receive a sports coupe that not only looks sensational but has the performance to match.
Just last year, their new
Genesis Sedan
walked away with title to AJAC's Luxury Car of the Year (under $50,000). This year, Hyundai has Infiniti's G37 Coupe squarely in its sights as it launches its latest missile, the Genesis Coupe.
Genesis Coupe – sharing the "Genesis" name but little else
Although it may reflect similar developmental principles, the Genesis Coupe is not simply a two-door version of the Genesis Sedan. It's a "ground up" sports coupe that delivers a healthy dose of exotic looks and raw performance.
At the heart of the matter is either, a turbocharged, 210 horsepower 2.0-litre 4-cylinder mill or a powerful, 306 horsepower 3.8-litre V6. Perhaps even more important than the quantity of pistons is Hyundai's decision to send the power aft, as in the rear wheels.
An angry I-4
My tester depended on the four-cylinder affair to put power to the pavement. Along with its wealth of economical horses, the smaller of the two Genesis engines produces a stout 223 pound-feet of torque @ only 2,000 rpm.
Any relatively small 4-banger that produces such output must have an angry side, and that's exactly what the DOHC unit in use by Hyundai has. Its anger is both felt and heard as it thrusts the coupe forward with liveliness that both surprises and obliges.
Hyundai ascribes a 0-100kph time of 8.3 seconds to the Genesis Coupe 2.0T but if anything, it feels faster. According to Hyundai, the V6-powered version comes in at only 6.3 seconds for the same run.
Fuel consumption
with the smaller engine is attractive at 10.1 and 6.6L/100km (man. trans.) city and highway driving respectively.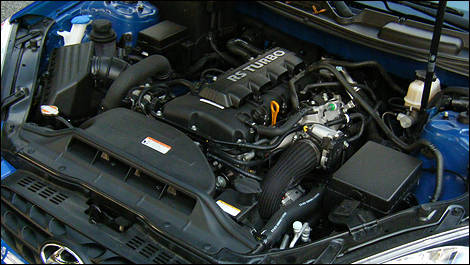 My tester depended on the four-cylinder affair to put power to the pavement.