The Dodge Durango, Ford Explorer, GMC Acadia, Honda Pilot, Mazda CX-9, Nissan Pathfinder and Toyota Highlander duke it out.
As spring rolled in, our editorial team at the office got some great news: three members of our gang were going to be new, first-time parents. That got us thinking about family vehicles as two of the three began to consider a new set of wheels. Anticipating more kids in the future, the guys and gal came to one unanimous conclusion: No minivans!
With a pair or more of infants, day bags, child seats, strollers, and countless other miscellaneous bits and pieces, the family vehicle needs to be not only roomy but versatile, well laid out and easy to live with. Cars like the Dodge Journey and Kia Rondo are perfect for young families where the kids have grown out of their strollers and child seats.
However, what we need here are large SUVs and CUVs capable of holding their own, with a minivan's capabilities but without the stigma that comes with members of that segment.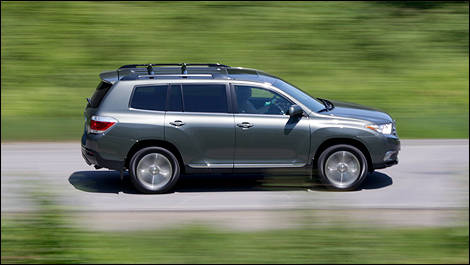 Photo: Sébastien D'Amour/Auto123.com
As we discussed the topic, we realized that the full-size CUV category has grown by leaps and bounds over the last few years. 2011 alone has introduced an all-new Ford Explorer and Dodge Durango. To see how good these new players are, we pitted them against five other 'trucks', including other recent arrivals and some older options which still hold much merit today.
Our day-long drive took us through the countryside, mimicking the typical cottage drive. We travelled over fresh tarmac, rough secondary roads and negotiated tight gravel-covered back roads to get clear impressions on each vehicle.
One of the most telling discoveries we made came with a loaded test where all seven drivers took up seats in the vehicles. Another was tackling a severely damaged twisty bit of road where some of the vehicles nearly got out of hand and where others felt uncannily comfortable.
Without further ado, here's what we came away with after a long gruelling day of driving aboard a Ford Explorer, a Dodge Durango, a Nissan Pathfinder, a Mazda CX-9, a Toyota Highlander, a GMC Acadia and a Honda Pilot.
Read more on the 7-seater SUV comparison test:
Nissan Pathfinder LE review – 2011 SUV comparison test
Dodge Durango Crew review – 2011 SUV comparison test
Honda Pilot Touring review – 2011 SUV comparison test
Toyota Highlander 4WD V6 Sport review – 2011 SUV comparison test
GMC Acadia Denali review – 2011 SUV comparison test
Ford Explorer XLT V6 4WD review – 2011 SUV comparison test
Mazda CX-9 GT review – 2011 SUV comparison test