Even the best recipes need occasional modification to adjust for changing times, ingredient costs and tastes. Discreet alterations, not big changes, are ideal when playing with an old favourite. In principle, if the team likes chilli, it's best to try a new spice combination rather than swapping the beef for tofu.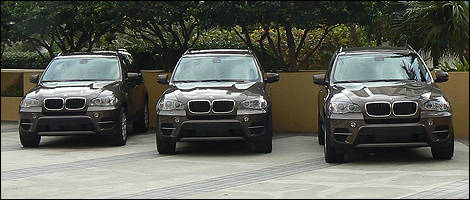 If you're an existing X5 owner looking to upgrade to a newer model, you'll feel right at home here. (Photo: Justin Pritchard/Auto123.com)
Apparently, the premium SUV market has largely approved of the recipe concocted by BMW for their popular
X5
. Equal parts brawn, capability and German luxury, nearly a million of the popular 'Sport Activity Vehicles' have been cooked up at the automaker's Spartanburg plant as of writing.
Consumers these days are watching their consumption-- and wallets-- more closely than ever. As such, 2011 sees the X5's recipe modified to be smarter and more sensible, as well as presented to customers with more flare than ever.
Loyal X5 enthusiasts will note several visual updates when the 2011 model hits dealer lots this May. These include new front and rear fascias, new colors and discreet sheetmetal upgrades that cut weight and help the vehicle slip more easily through the air. The appearance is still very much X5, just slightly fresher and more alert.
Looks aside, the majority of the X5's latest tweaks are executed towards a vehicle-wide attack on
fuel consumption
enabled by new technologies-- and new combinations of existing ones. The result is the most powerful and fuel-efficient X5 lineup to date.
Key in this offering is a new three-litre, turbocharged, direct-injected straight-six engine known by engineers and enthusiasts as the 'N55'. After popping up behind BMW grilles in other applications last year, this powerplant will soon report for duty in standard X5 models. Though almost identical to the brand's three-litre twin-turbo mill where specifications are concerned, it's a completely new unit both inside and out.
Direct Injection technology fires gasoline straight into the N55's combustion chambers under extreme pressure, giving engineers more precise control over fuel metering and a more efficient burn. The gist? Direct Injection ensures every molecule of fuel is put to the best possible use, and both power output and fuel consumption are simultaneously improved.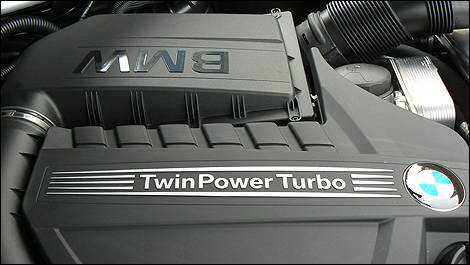 Key in this offering is a new three-litre, turbocharged, direct-injected straight-six engine. (Photo: Justin Pritchard/Auto123.com)