Products of a rare elegance have been emerging from Hyundai's design studio over the past few months. One of them is the
Elantra
, a small sedan that builds on the successfully-styled
Sonata
… or is it the new Accent? Hum, tough to tell.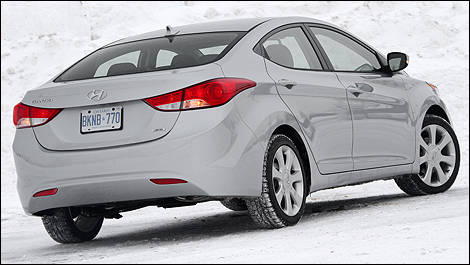 The 2011 Hyundai Elantra is unquestionably one of the year's sexiest new cars. (Photo: Luc Gagné/Auto123.com)
No matter how you looked at it, the previous model redesign (2007) failed to impress. On the other hand, the 2011 Elantra's exquisite aesthetics deserve praise from everyone.
A matter of styling
You can't put enough emphasis on styling, now a definite top priority for most car buyers. It can literally make or break a vehicle.
The new Elantra is a prime example of great styling execution, as evidenced by the sheer number of heads that turn in its direction. Hyundai is making a powerful statement to promote the car in a segment long dominated by the Honda Civic and full of strong contenders like the Toyota Corolla,
Mazda3
, Ford Focus and the new Chevrolet Cruze. The list goes on and on.
Credit goes to the automaker's ''Fluidic Sculpture'' design language. Basically, as the name suggests, the products are all about flow and sculpted shapes, giving the impression of movement even from a standstill. And judging by the Elantra, it works!
Hyundai also proudly insists on the drag coefficient, which dropped from 0.32 to 0.28 – better than even the aerodynamically-shaped Chevrolet Volt's 0.29!
New engine
Under the sexy sheetmetal is a brand new 1.8-litre, 4-cylinder engine with variable valve timing. Called ''Nu'' (13th letter of the Greek alphabet), it produces 148 horsepower whereas its 2.0-litre predecessor topped at 138.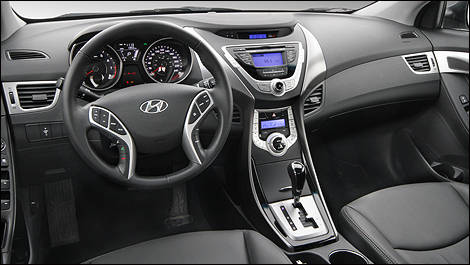 The unique dashboard combines form with function. (Photo: Luc Gagné/Auto123.com)