Fine, the title makes no sense. It refers to Dawson City and its famous
Sourtoe Cocktail
which I discovered on my northern adventure at the wheel of a
smart fortwo
last year. I was too chicken to drink the cocktail... See for yourself what it involves.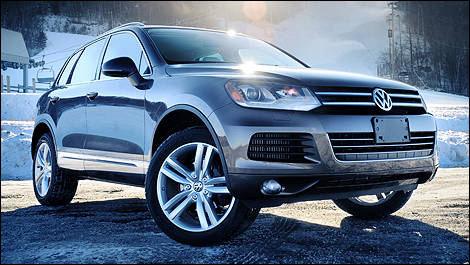 The Volkswagen Touareg makes a genuinely good do-anything go-anywhere vehicle. (Photo: Matthieu Lambert/Auto123.com)
The header refers to what happens when you're exhausted and start rambling and talking nonsense; you would too if you drove to Detroit from Montreal, then spent two days on the
North American International Auto Show
show-floor only to return home the following day. In my groggy state, on the way back to Hab-Town, I called our Touareg "Toereg" which, at the time, seemed funnier than it does now.
What typically isn't funny is the prospect of being on the road for ten hours, heading towards Detroit. That is unless the destination was just about anywhere else in the summer, say Saint-John or Pittsburgh. Luckily for photographers Phil and Matt as well as Jerome the cameraman and myself, we saddled up a 2011 Touareg TDI at 5:45 am on a nippy Sunday morning.
Lucky, because the new
Touareg
quickly proved its worth swallowing up cameras, laptops, bags upon bags, clothing and other gear and four adults. Ranging in height from 6'2 to 5'8, the only arrangements we had to make was to combine a shorter and a taller person front-rear. The only complaint that rose from the trip as far as comfort was concerned was the inability, for those in the rear, to slide their feet under the front seat.
Pertaining to the cabin, the Touareg needs not to envy any Audi product: the materials are high-class while its austere and simple presentation is calming and functional. My only qualm here was with the absence of front seatback pockets, often overlooked and underrated but always useful for magazines, a place to hang the Blackberry in its holster and whatnots.
As my Touareg TDI was a base Comfortline version and therefore featuring leatherette, it is possible that those moving up to a Highline, which includes real leather, will get the pockets. Base price for the Comfortline is $53,190. A Highline will set you back $58,645 but adds real cowhide, a power glass panoramic sunroof, keyless access with start/stop button as well as heated rear seats and steering wheel, amongst other things. No, it ain't cheap but you ain't buying a cheap vehicle either.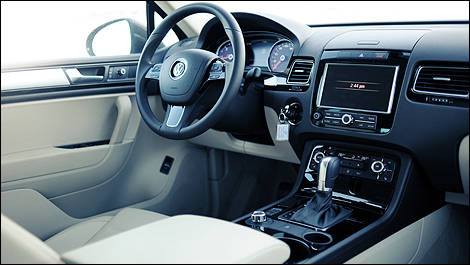 Pertaining to the cabin, the materials are high-class while its austere and simple presentation is calming and functional. (Photo: Matthieu Lambert/Auto123.com)