The difference is under the hood. That's where you'll find 412 raw horsepower speaking loudly to anyone that'll listen. It's not a quiet steed, nor is it docile, but it's a tremendously rewarding pony for those with a lust for performance and a heart for nostalgia.
Modern retro fun
The latest generation of the Mustang is, in my view, a fabulous piece of retro modernity. The vehicle really captures the spirit and excitement of the muscle car era; an era that is fondly remembered by many—myself included.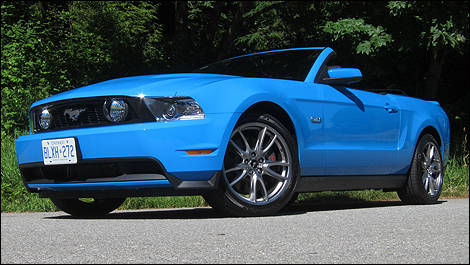 The latest generation of the Mustang is, in my view, a fabulous piece of retro modernity. (Photo: Rob Rothwell/Auto123.com)
Although my right to drive didn't arrive until 1974, I was exposed to the muscle car era by older brothers who owned such classics as a 1970 Dodge Challenger R/T and a 1966 Plymouth Satellite. Both of these Mopar sleds were powered by Chrysler's 383-cu-inch V8 backed by 4-speed sticks—the Challenger flaunting its "pistol grip" stick shift.
My point in reminiscing is to set the stage for driving the
2012 Mustang GT Convertible
. It's a fine rendition of all that made the early muscle car era so special. Despite its constellation of airbags and modern vehicle stability/safety accoutrements, my tester's retro-spirit wasn't dampened with the presence of a modern
navigation system
or other in-car tech toys.
Except for Ford's discreet SYNC system, the 2012 GT ragtop I drove this week fulfilled my desires with simplicity, such as its knobs to control audio and climate functions. The presence of conventional switchgear and full instrumentation was a refreshing find, and frankly, I wouldn't want it any other way in this sort of car.
I also wouldn't want to change what's under the hood.
5.0 litres of fun
The GT's 5.0-litre, 32-valve V8 powerplant produces its height of 412 horsepower @ 6,500 rpm. This huge herd of hooves is complemented by 390 pound-feet of torque @ 4,250 rpm, the sum of which flows through a six-speed gearbox—automatic or manual. In my case, manual, thank you.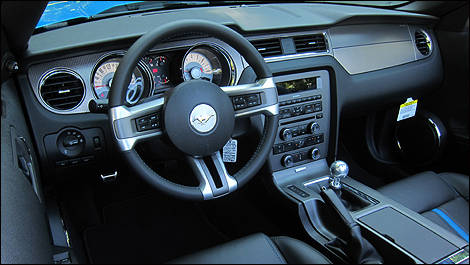 The presence of conventional switchgear and full instrumentation was a refreshing find. (Photo: Rob Rothwell/Auto123.com)