Honda's popular pocket rocket has been significantly improved for 2012, and thanks to a new engine, the improvements are more than visual.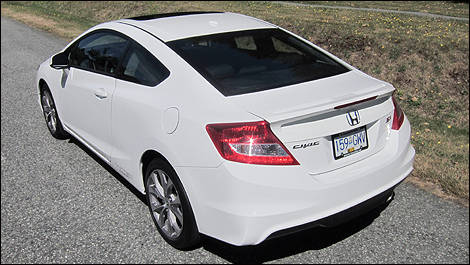 The 2012 Civic Si is notably improved over last year, thanks to more heat under the hood and superior aesthetics. (Photo: Rob Rothwell/Auto123.com)
Much improved looks
The former Coupe Si wasn't a bad-looking vehicle, but it pales in comparison to the new version, which seems to have adopted styling cues from the highly attractive
Accord Coupe
. The most notable of which are the rear quarter glass and the tail end of the
2012 Honda Civic Coupe Si
.
The exterior revisions have immensely improved the car's visual presence while serving to clean its overall appearance – a good job there. Moving inside the car leaves me less enthused.
Great seats, too much interior plastic
First of all, I've never been a fan of Honda's bi-level instrument panel but the setup works well, delivering the essentials with clarity and accuracy. The HVAC controls are pure joy to use due to their simplicity; I can't say that for much else.
The touch-screen interface isn't my preferred means of adjusting secondary controls. Perhaps the iPhone-user sect is more adept at living with interactive screens than I am; nevertheless, Honda's system comes together with some practice and exposure.
On the flipside, I was quite smitten with the Si's front seats. They are exceptionally supportive, well bolstered and deliver fade-free comfort. They are upholstered in a highly textured fabric that imparts a quality feel. Unfortunately, that's not the case throughout the cabin where excessive expanses of hard plastic cheapen the environs.
Then again, the Civic is an economy car – fair enough – but have a look at what Ford and Hyundai, to name a few, are doing with their economy digs and the contrast will surely be stark.
Enough about the cabin which, by the way, is quite spacious for a compact coupe; let's move onto the heart of the pocket beast.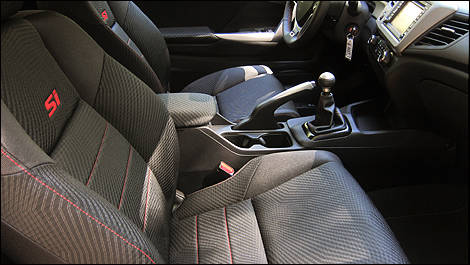 I was quite smitten with the Si's front seats. They are exceptionally supportive, well bolstered and deliver fade-free comfort. (Photo: Rob Rothwell/Auto123.com)