SEVILLE, Spain –
I asked in my First Impressions article on the debut of the Mercedes-Benz C-Class Coupe whether there would be blood in the water now that Mercedes has taken a dive into the shark tank of coupes. I concluded that if there were to be blood in the water, unlikely it would be tri-star red.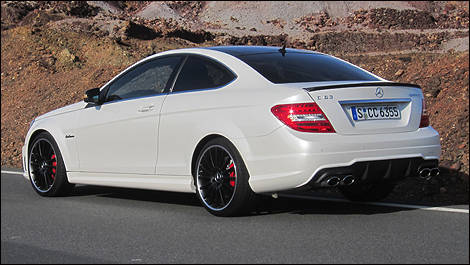 The C63 AMG Coupe launched in Seville is a world apart from its milder C250 and C350 Coupe siblings. (Photo: Rob Rothwell/Auto123.com)
After driving the formidable C63 AMG Coupe on the track at Spain's famous Monteblanco Circuito outside of Seville, I can answer more emphatically that it won't be AMG blood colouring the water if there's a bloodletting.
The C63 AMG Coupe launched in Seville is a world apart from its milder C250 and C350 Coupe siblings. The C63 is all about brute force and exceptional performance standards.
At the heart of the beast is AMG's renowned, hand-built 6.2-litre 32-valve DOHC V8 powerplant. These engines are assembled in the clinically sterile AMG plant in Affalterbach, Germany, using the principle of "one man, one engine" to ensure perfection. The builder of each engine signs a small plaque that's affixed to the intake as a statement of pride.
At 451 horsepower, there's plenty to be proud of. An optional Performance Package can up the ego quotient to 481 horsepower for those wanting to exude even greater dominance in their German ride. Of course, exploiting such a compelling magnitude of pride requires the safeguards of a suitable closed-circuit track.
The Circuito Monteblanco located in the municipality of La Palma del Condado in Southern Spain is a professional course 4.73 kilometres in length that can be configured in a multitude of manners to accommodate an extensive range of racing and product testing.
Mercedes-Benz provided the attending journalists the opportunity to max out the C63 AMG under the guidance and mentorship of two highly-skilled racecar drivers, one of whom was Susie Stoddard of German Touring Car fame. She's a fierce competitor in the DTM Class, racing for Mercedes-Benz.
Eager to hit the tarmac, I climbed into a C63 positioned behind the lead racecar, an SLS driven by Stoddard. Finally the opportunity to experience the C63 in all its glory was underway, the full ferocity of which was soon to make itself evident.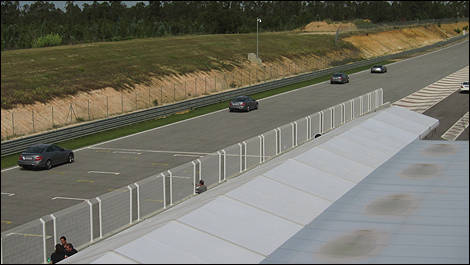 The Circuito Monteblancois a professional course 4.73 kilometres in length that can be configured in a multitude of manners to accommodate an extensive range of racing and product testing. (Photo: Rob Rothwell/Auto123.com)