It's been a stressful few years for Swedish automaker Saab, but with a recent buyout by Spyker and the promise of a refreshed and dynamic new product lineup, things are potentially looking up for the brand.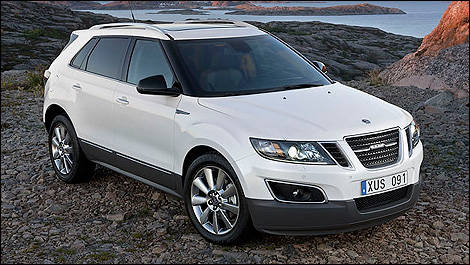 Riding the same platform as the Cadillac SRX, the 9-4X is aimed at competitors like the Mercedes GLK, Audi Q5 and Lexus RX. (Photo: Saab)
A new crossover model called the 9-4X is readying for launch, and will join Saab's new 9-3 and 9-3 line-up. Riding the same platform as the Cadillac SRX, the
9-4X
is aimed at competitors like the
Mercedes GLK
, Audi Q5 and
Lexus RX
. It boasts unique, aviation-inspired Scandinavian design, upscale interior amenities and powerplants engineered to deliver Saab's brand of efficient, responsible performance.
Power comes from one of two lightweight aluminum V6 engines—namely a 3.0-litre unit with 265 horsepower or a 2.8-litre turbo V6 with 300. All 9-4X models get a six-speed automatic transmission with manual mode, and the high-performance 'Aero' model gets paddle shifters for optimal driver control.
Front-wheel drive is standard, and Saab's innovative Cross Wheel Drive (XWD) system is available for all-weather traction and enhanced dry-surface performance. With an electronic limited-slip rear differential (eLSD), Saab's Haldex-built system splits engine power between the front and rear axles, as well as across the rear axle in real time, enhancing agility and handling dynamics. Saab's XWD system is sure to be a hit with drivers active in winter months—as are the 9-4X's remote start and tri-zone automatic climate control.
Though styling and uniqueness will likely be the most compelling reasons for shoppers to check out the 9-4X, it will feature a laundry list of features mandatory in its segment, including a power liftgate, navigation, xenon lighting, push-button start and a panoramic sunroof.
A rear-seat entertainment system will also be available, and Saab's unique 'Night Panel' display is on board, too. The latter feature is driver-engaged to 'black out' all instruments other than the speedometer, making night driving easier on the eyes. It's just one of several innovative safety features that Saab is famous for.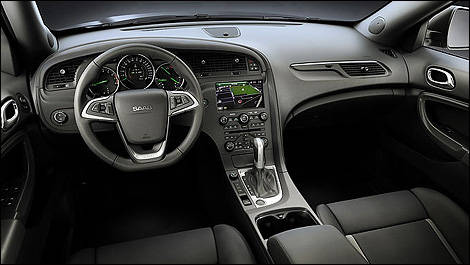 A rear-seat entertainment system will also be available, and Saab's unique 'Night Panel' display is on board, too. (Photo: Saab)