PHOENIX, Arizona
—
Volvo's C30
is a highly commendable sports car that is reminiscent of the Volvo P1800ES from the early 1970s. I happen to think that the C30 is one of the best looking 2-door hotbacks on the market regardless of price.
While this car has never been a slouch in the performance department, Volvo has decided to fortify its ability in the passing lane. They assigned this task to Polestar, a racing and performance-enhancing company with whom they've been partnered since 1996.
Polestar lives and breathes Volvo's passion for
safety
just as enthusiastically as they live and breathe performance and racing. This is reflected in their guiding principle of enhancing Volvo performance in a safe, responsible manner.
So what does all of this mean for the C30 T5 you ask?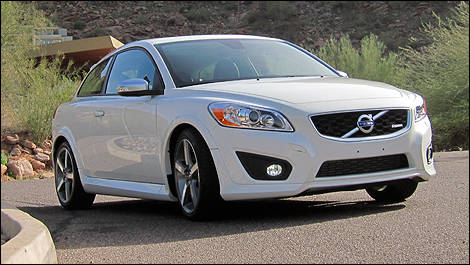 Volvo's C30 is a highly commendable sports car that is reminiscent of the Volvo P1800ES from the early 1970s. (Photo: Rob Rothwell/Auto123.com)
Increased power
Beneath the hood of the C30 T5 beats an inline turbocharged 5-cylinder engine that develops 227 hp and 236 lb-ft of torque. This turbine-smooth mill is fused to a 6-speed manual gearbox or an optional 5-speed automatic affair.
Opting for the Polestar performance enhancement bumps horsepower to 250 and torque to 273 pound-feet. This is achieved by replacing the engine control module with a Polestar-developed unit that recalibrates turbo boost, spark timing and a number of other functions to take the C30 T5 to new performance standards, dropping its 0-100 km/h sprint time from 6.7 seconds to 6.3.
Polestar re-tuning kicks in above 3,000 rpm. This is intended to keep the 2.5L I5 engine as fluid and drivable as originally intended despite holding notably more output. The Polestar kit can be retrofitted to C30s with the T5 engine from 2008 onward by Volvo dealerships at a cost of $1,295 including installation.
Back to the 2012 C30 T5 R-Design
I had the recent opportunity to drive a 2012 Polestar-tuned C30 T5 R-Design while at a Volvo product launch in Arizona. Even before Polestar's modifications, the C30 has always been on my list of 'fun to drive' small cars; the power boost just notched it a little higher.
The C30 benefits from some repackaging for 2012, but don't look for anything more than cosmetic. More significant changes took place in 2011, which included a sharpening of exterior lines and other styling improvements.
My tester looked sensational in white, contrasted by its two-tone leather-lined cabin, which was perfectly assembled and driver centric in its focus. The only visual clue to the unit's Polestar punch was a small, blue badge discreetly affixed beneath the right taillight. I like such subtleties when it comes to making a "power" statement rather than obnoxious in-your-face spoilers and the like that serve no purpose other than to embarrass me behind the wheel. No such feelings of humiliation accompanied by blast in the C30 T5 R-Design with its tasteful blue badge.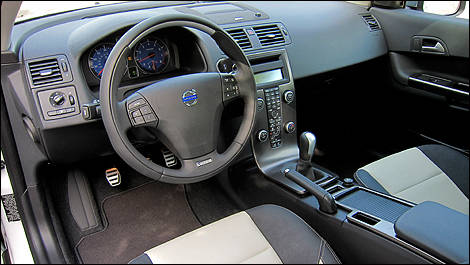 My tester looked sensational in white, contrasted by its two-tone leather-lined cabin, which was perfectly assembled and driver centric in its focus. (Photo: Rob Rothwell/Auto123.com)