PHOENIX, Arizona –
"Think Volvo, think
Safety
." That was then, this is now: think Volvo, think
performance
and safety. That's what I took away from three days in the desert with the latest products from Volvo.
Polestar – Volvo's racing partner
Polestar is a Swedish company that has been a racing partner with Volvo since 1996. Along the way, Polestar has developed a multitude of performance-enhancing parts and technologies exclusively for Volvo. And because Volvo is synonymous with safety, everything Polestar produces is done so safely and responsibly.
The fruits of the relationship have now gone mainstream. The XC60 is one of four vehicles in Volvo's lineup for 2012 that benefit from Polestar's racing heritage. Ticking the "R-Design" box on the order sheet will net buyers Polestar-infused power and superior handling dynamics.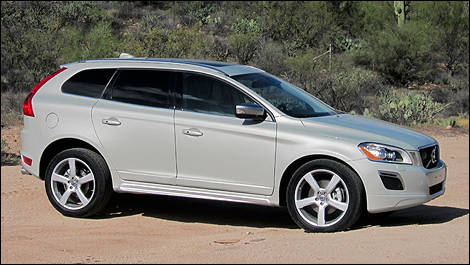 The XC60 is one of four vehicles in Volvo's lineup for 2012 that benefit from Polestar's racing heritage. (Photo: Rob Rothwell/Auto123.com)
Polestar and R-Design
R-Design is the top rung on the 2012 Volvo XC60's trim ladder, making it a fully loaded edition of Volvo's luxurious mid-size all-wheel-drive crossover. The comfort and safety content in this vehicle is class-leading, and no one does it better, but what I want to focus on in this review are the performance improvements that Polestar has brought to this highly capable vehicle.
Without affecting fuel economy or increasing emissions, Polestar technology adds 25 hp and 29 lb-ft of torque to Volvo's turbocharged 3.0L I6 engine for a total of 325 hp and 354 lb-ft of torque, the same output as in the
2012 Volvo S60 T6 R-Design sedan
.
Those numbers may not cause heart palpitations but they do represent a significant boost in the XC60's performance that is quite noticeable. It works like this: a revised engine control module increases turbo boost and optimizes spark timing to produce greater power above 3,000 rpm.
The beauty of this revision is its seamless application. Below 3,000 rpm, the engine performs as it would without the enhancement, meaning driveability remains smooth and progressive. Crest 3,000 rpm and the additional grunt presents itself without any harshness or undesirable fanfare.
The extra power is most appreciated when passing slower vehicles on the highway but also when climbing long grades in mountainous regions. This really stood out for me during a full day under the Arizona sun headed to Sedona. The XC60 never felt heavy or strained climbing the mountains en-route to the Red Rock region of the desert state.
Unlike some crossovers in which one's right foot continuously sinks to maintain speed during those arduous ascents, my tester's Polestar technology maintained the vehicle's speed and momentum while requiring only the slightest of throttle adjustments. That's the beauty of abundant torque, and thanks to Polestar, the XC60 T6 R-Design carries plenty of it. Volvo assigns a 0-100 km/h time of 7.3 seconds to this vehicle.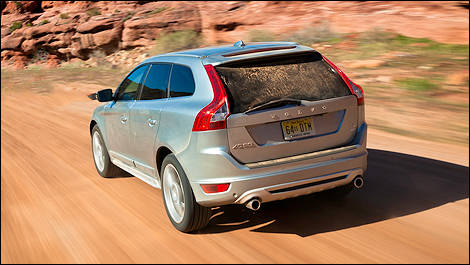 The XC60 never felt heavy or strained climbing the mountains en-route to the Red Rock region of the desert state. (Photo: Volvo)