General Motors couldn't wait until Wednesday at the Los Angeles Auto Show to unveil the brand new 2013 Chevrolet Spark.
GM's mini car looks slightly different from the model that's already sold overseas: the nose was redesigned, the tail stretched longer, and the headlights boast a unique shape. And the robotic version from the Transformers 2 movie is even farther removed from the original.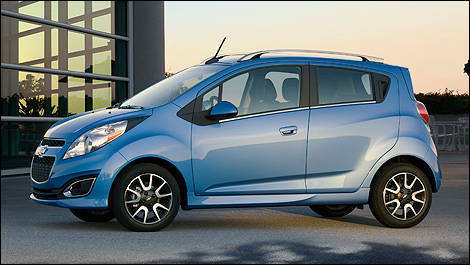 Photo: General Motors
The nine available body colours – does it get any flashier than Jalapeno or Techno Pink? – and customizable interior are clear evidence that the 2013 Chevrolet Spark will target young drivers. We bet they'll love the rear spoiler, too.
The Spark's spark will come from a 1.2L 4-cylinder engine rated at 85 horsepower and 81 lb-ft of torque.
Look for a 5-speed manual gearbox, 15'' wheels, 10 airbags, climate control and power windows to be standard weaponry when the Chevrolet Spark flies off dealer lots in mid 2012.