As if the Ford Shelby GT500 weren't spectacular enough, engineers at the Blue Oval gave it the most powerful production V8 in the world for 2013.
The 5.8L supercharged engine will send 650 mad horses to the rear wheels through a 6-speed manual gearbox. The extra 100 hp over the outgoing model will allow the 2013 Ford Shelby GT500 to reach a top speed of more than 200 mph (321 km/h).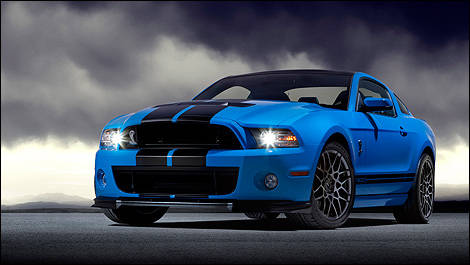 Photo: Ford
These mind-blowing numbers are the result of massive upgrades under the hood. The supercharger, engine block and heads, camshafts, clutch, transmission, driveshaft, and cooling system have all been optimized to deliver even greater performance.
The 2013 Ford Shelby GT500 also benefits from improved downforce, a launch control system, and new Brembo brakes. The car rides on 19'' front and 20'' rear wheels shod in Goodyear Eagle F1 SuperCar G:2 tires.
For buyers who'd like to crank things up another notch, Ford will also offer an optional Performance Package with SVT-designed Bilstein electronic adjustable dampers and a Torsen limited-slip differential.