The current-generation Hyundai Santa Fe has been around since the 2007 model year, and has stayed competitive throughout its product cycle. But the time has come for a redesign, and Hyundai has just released the first images of the 3rd-generation model that will be globally launched at the upcoming New York Auto Show.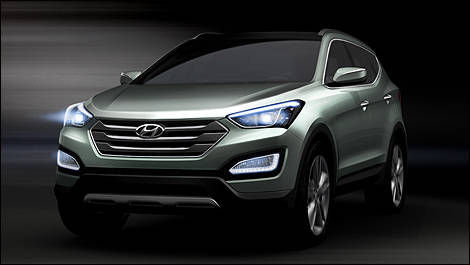 Photo: Hyundai
The 2013 Hyundai Santa Fe has been designed with a style language the Korean brand calls "Storm Edge"; it's based on their Fluidic Sculpture philosophy and, according to Hyundai, captures the visual effect that occurs when Mother Nature decides to whip up a storm.
The new Santa Fe will feature Hyundai's now signature hexagonal grille, and the overall shape boasts styling cues from the Mercedes-Benz M-Class as well as the Audi Q5 and Q7. No word yet on what powertrains will equip the new generation of the Santa Fe, but we should know more at the start of the NY Auto Show in early April.