Pros and cons*
Pros

Proven reliability, quality materials, a multitude of storage options and a choice of engines and an excellent Hyundai warranty make this model an attractive option for buyers.
Cons

Weak lateral seat support, limited rear-seat headroom, and the lack of sporty handling are likely to disappoint.
Price

The base Sonata GL starts at $23,999.
The GLS version has a starting price of $25,999.
The SE version has a MSRP of $27,399.
The Sonata Limited starts at $28,999.
The Limited Navigation model starts at $31,399.
The turbocharged 2.0 litre Sonata 2.0T Limited automatic has a MSRP of $31,799.
The 2.0T Limited Navigation automatic has a starting price of $34,199.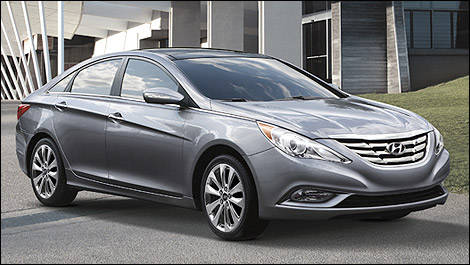 Photo: Hyundai
Fuel Economy

The normally-aspirated 2.4 litre engine has fuel economy ratings of 8.7 L/100 km city and 5.6 L/100 km highway. The combined rating stands at 7.3 L/100 km.
The turbocharged 2.0 litre consumes an average 7.7 L/100 km, or 9.2 L/100 km city and 5.8 L/100 km highway.
Exterior Styling

The 2013 Hyundai Sonata is an extremely stylish intermediate sedan. Its oversized front grille, low roofline and tapered profile give it an elegant, refined, fluid style.
Drivetrain

The base engine is a 2.4 litre 4-cylinder that produces 198 hp and 184 lb-ft torque. It is available with either a standard manual transmission or optional automatic 6-speed transmission.
The 2.0T is equipped with a turbocharged 4-cylinder engine which produces 274 hp and 269 lb-ft torque which is delivered to the front wheels by an automatic 6-speed transmission.
A hybrid version is also available.
Cargo Capacity

The trunk area of the Hyundai Sonata can hold up to 464 litres, which is more generous than most of its competitors.
Safety

Six airbags, electronic stability and traction control, active headrests, and advanced braking are some of the safety features of this sedan.
Comparable Models

Buick LaCrosse
, Chevrolet Malibu, Chrysler 200, Ford Fusion,
Honda Accord
, Kia Optima, Mazda6, Nissan Altima, Subaru Legacy, Toyota Camry,
Volkswagen Passat
*References
Laguë, Philippe, L'Annuel de l'automobile 2013, Montréal, Transcontinental, 2012, p. 304
Duquet, Denis, Le Guide de l'auto 2013, Montréal, Les Éditions de l'Homme, 2012, p. 326
www.hyundaicanada.com