As the most versatile of the four Prius models, the 2013 Toyota Prius v is a fuel-efficient wagon that provides more passenger and cargo room for active Canadian families.
''Toyota listened to Canadian families, who loved the Prius but wanted an option with even more versatility for their on-the-go lifestyles," said Tony Wearing, Senior Managing Director at Toyota Canada Inc.
The 2013 Toyota Prius v offers 50% more interior space than the original Prius, and comfortably sits five adults. Under the hood is a 1.8L four-cylinder engine mated to a high-torque electric motor and high-capacity storage battery for a net output of 134 horsepower and combined fuel consumption of 4.5L/100 km.
Now on sale across Canada, the 2013 Toyota Prius v comes with an interesting list of standard features as well as three options packages. Pricing goes as follows:
Prius v: $27,425
Prius v Luxury: $30,410
Prius v Touring: $33,445
Prius v Touring + Technology: $37,120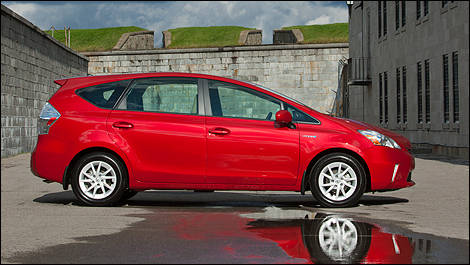 Photo: Toyota