Pros:
Available as a coupe or convertible, the 2014 Bentley Continental GT may be the quintessential grand touring automobile. A stunning 2-door model that blends classic Bentley DNA with contemporary design and modern technology, the perfect fusion of supercar performance and handcrafted luxury.
Cons:
This car's expensive, even by luxury standards. Its sheer size requires care when driving in tight spots. At the same time, rear-seat access and room is somewhat limited. Of course, the W12 engine will suck your wallet dry at the pumps.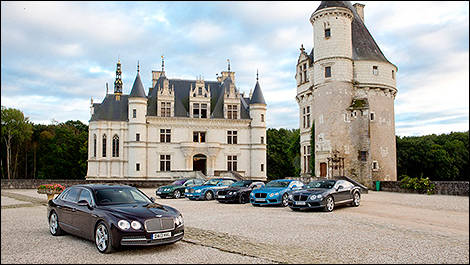 Photo: Bentley
2014 Bentley Continental GT Price:
Detailed pricing is unavailable. Contact your local dealer.
2014 Bentley Continental GT Fuel Economy:
The official ratings for the Continental GT are 17.0L/100km in the city and 9.8L/100km on the highway. In the real world, though, expect to burn quite a bit more than that.
Improvements and Changes:
Just a few revisions to the options and packages.
2014 Bentley Continental GT Powertrain:
Outfitted with Bentley's 6.0L twin-turbocharged W12 powerhouse, the Continental pushes out 567 hp and 516 lb-ft of torque through an 8-speed automatic transmission, which translates into a top speed of 318 km/h and a 0-100km/h dash in 4.5 seconds -- astonishing feats for a car that weighs nearly three tons. As with all Continental models, the state-of-the-art all-wheel drive system employs an advanced Torsen differential and a 40/60 rear-biased torque split.
Don't miss:
A state-of-the-art air suspension, including Intelligent Continuous Damping Control, constantly monitors the car's attitude and poise, adjusting the settings hundreds of times per second to deliver a supple ride at low speeds and increased control at higher speeds.
Inside, over 80% of the entire cabin is trimmed with exquisite soft-touch leather, while Bentley's full range of wood veneers, cool-touch metals, and deep-pile carpets act as the perfect contrast.
Safety:
The 2014 Bentley Continental GT comes standard with a full suite of airbags and electronic nannies including front, side, and curtain airbags, as well as anti-lock brakes, traction and stability control. Convertibles are fitted with automatic pop-up roll bars for added rollover protection.
Comparing the 2014 Bentley Continental GT:
Rivals include the Aston Martin DB9/Vanquish, BMW M6, Ferrari 458, Porsche 911 Turbo, Mercedes-Benz CL 63 AMG, and Rolls-Royce Phantom Coupe.