2014 BMW M6 – Pros and cons*Pros
The powerful 2014 BMW M6 Coupe and Gran Coupe boast an impeccable interior finish, judicious use of carbon fibre, and an active differential.
Cons
Space is cramped in the back of the coupe, despite its overall hefty size.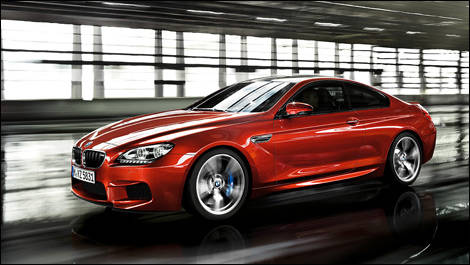 2014 BMW M6 Coupe (Photo: BMW.ca)
New and improved
-The 2014 4-door Gran Coupe will make its Canadian debut in 2013.
-Carbon ceramic brakes are now optional on the M6.
-The Gran Coupe is outfitted with distinctive, 20" wheels.
2014 BMW M6 – Price
The M6 Coupe starts at $124,900.
The M6 Gran Coupe retails for $127,900 and up.
Fuel economy
The coupe's V8 is rated at 13.3L/100km city and 8.6L/100km highway for a combined rating of 11.2L/100km.
The Gran Coupe's total estimated ratings are 14.4L/100km city and 9.2L/100km highway.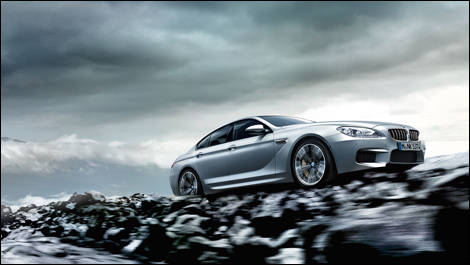 2014 BMW M6 Gran Coupe (Photo: BMW.ca)
Exterior styling
This 2- or 4-door luxury car has a style uniquely its own. Long and lean, with a high beltline, a characteristic grille, LED headlights and a dual exhaust, this aristocrat is both elegant and fierce.
2014 BMW M6 – Drivetrain
Under the BMW M6's hood, you'll find a V8 4.4L TwinPower Turbo with 560 hp and 500 lb-ft of torque.
The 7-speed, double-clutch automatic transmission comes standard, though a 6-speed manual transmission is available as an option. All models are equipped with rear-wheel drive.
Cargo capacity
The M6's trunk can load up to 460 litres.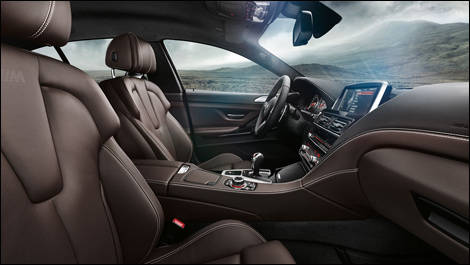 2014 BMW M6 interior (Photo: BMW.ca)
Safety
Not only is the M6 equipped with six airbags, it also features state-of-the-art safety technology such as dynamic stability control and electronically balanced brake force, as well as other security options like head-up display.
2014 BMW M6 – Comparable models
Audi S7
,
Aston Martin Vantage
,
Jaguar XKR-S
,
Maserati GranTurismo
,
Maserati Quattroporte
,
Mercedes-Benz CLS63
.
*References
Duval, Jacques, Le guide de l'auto 2014, Montréal, Les éditions de l'Homme, 2013, p.166
www.press.bmwgroup.com
www.bmw.ca