Pros:
The most versatile CTS of them all, the 2014 Cadillac CTS Sport Wagon combines core Cadillac CTS attributes with a healthy dose of space, flexibility, and versatility thanks to its Sport Wagon design. Offered is a motorized tailgate, opening on a generous cargo hold with a cargo management system for maximum organization on the move. Roof rails add extra carrying capacity making the CTS Sport Wagon ideal for even lengthy out-of-town voyages. On said voyages, the latest in fuel saving, multimedia, and connectivity technology keep drivers efficiently entertained and connected. Seating for five combines with up to 1,642 litres of available cargo space.
Cons:
Less-expensive wagons are available, and since the CTS Sport Wagon isn't enormous, a larger crossover SUV model may be more ideal for some shoppers. Further, the 2014 model year hasn't yet seen the CTS Sport Wagon move into the all-new design showcased in the latest CTS sedan.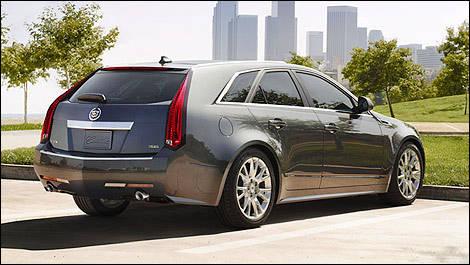 Photo: Cadillac
2014 Cadillac CTS Sport Wagon Pricing:
Look for pricing form $48,065 before incentives to open the bidding on a 2014 Cadillac CTS Sport Wagon in Luxury trim grade, with $51,995 and $60,185 starting the Performance and Premium grades, respectively. Numerous options and packages can be added to each for further customization.
2014 Cadillac CTS Sport Wagon Fuel Economy:
Depending on the powertrain selected, drivers can expect fuel economy to land at a combined average between 9.5 and 9.9L/100km.
Improvements and Changes:
As a carry-over model, little is new with the 2014 CTS Sport Wagon other than its colour palette, which has been updated to offer Phantom Grey Metallic, Mocha Steel Metallic, Red Obsession Tintcoat, and Majestic Plum Metallic.
Don't Miss:
The CTS Sport Wagon's full suite of fully automatic features. Automatic climate control self-adjusts the cabin temperature based on driver and front passenger preferences, compensating seamlessly for changing light conditions and ambient temperatures. Automatic lighting ensures confidence through maximum visibility at all times. Rain-sensing wipers switch on when rain or snow falls, and self-adjust their speed in response to precipitation levels.
2014 Cadillac CTS Sport Wagon Powertrain:
Look for the 2014 Cadillac CTS Sport Wagon with one of two available V6 engines. The 3.0L unit generates 270 horsepower, while the high-output 3.6L unit makes 318. Both engines utilize direct injection and variable valve timing for optimal efficiency and emissions performance, and both are constructed almost entirely of lightweight aluminum for reduced vehicle weight. Best of all, both of these high-performance engines make their rated power output on less-expensive, regular grade gasoline.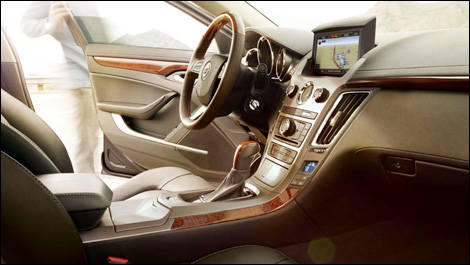 Photo: Cadillac
Safety:
The CTS Sport Wagon comes standard with features like advanced airbags, stability control, and an advanced, high-tech braking system designed for maximum control. A crash-optimized body structure adds protection in the case of an impact, and All-Wheel Drive is available for all-season traction on most CTS Sport Wagon models.
Other safety-enhancing features like a hands-free Bluetooth phone system, voice-activated navigation, adaptive xenon lighting with washers, and the award-winning OnStar system, are also standard or available, depending on the specific grade in question.
Comparables:
Compare the CTS Sport Wagon to similar machinery from Audi, Mercedes, and BMW.