Pros:
The 2014 Chevrolet Spark is a youthful city car built in South Korea by GM DAT, a division of General Motors. Despite its small size, four adults can sit inside. Expect superb manoeuvrability around town, in addition to great fuel economy -- especially from the Spark EV (available starting this spring). As for styling, it think it looks very cute.
Cons:
The gasoline engine lacks gusto and therefore affects the car's performance. While the entry price is attractive, the numerous options and packages may compromise your budget.
2014 Chevrolet Spark Price:
Speaking of which, there are six trim levels to choose from this year, from the base LS with manual transmission ($13,745) to the top-of-the-line 2LT with automatic transmission ($20,945). These prices include freight and delivery charges.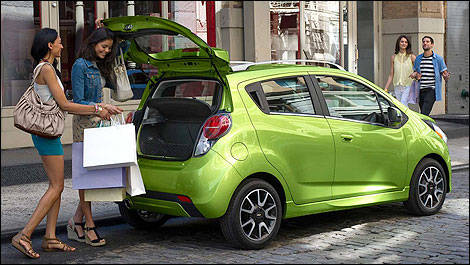 Photo: Chevrolet
2014 Chevrolet Spark Fuel Economy:
Expect to burn an average of 5.7L/100km with a manual Spark, and 5.9L/100km with an automatic version.
Improvements and Changes:
The biggest news is the introduction of the 2014 Chevrolet Spark EV, which offers a range of 132 kilometres and can fully charge in 14 hours through a 120V household outlet.
2014 Chevrolet Spark Powertrain:
On one hand, you have a 1.2L 4-cylinder engine that produces 84 horsepower and 83 lb-ft of torque, either through a 5-speed manual transmission (standard) or a 4-speed autobox (optional). On the other hand, the upcoming Spark EV houses an electric motor rated at 130 horsepower... and as much as 400 lb-ft of torque!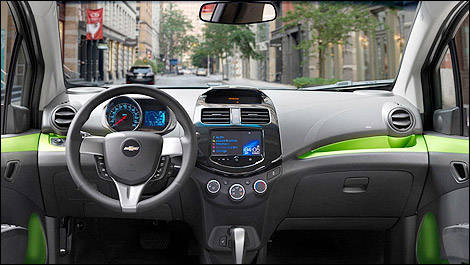 Photo: Chevrolet
Cargo Capacity:
You can nearly triple the 2014 Chevrolet Spark's cargo capacity -- from 323 to 883 litres -- by folding the rear seats. In the case of the Spark EV, these numbers fall to 271 and 663 litres, respectively, due to the location of the battery.
Safety:
The Spark features ABS, brake assist, electronic brake force distribution, stability and traction control, hill-start assist (manual transmission), and 10 airbags as standard equipment.
Comparing the 2014 Chevrolet Spark:
As a microcar, the Spark competes with the Fiat 500, Scion iQ, and smart fortwo. You can throw in other sub-compact cars like the Toyota Yaris, Mitsubishi Mirage, and Mazda2.