I love rowing gears and having fun behind the wheel. Obviously, I have a weak spot for sports cars, while sedans often fly under my radar. Save for a few exceptions, sedans are depressingly uninspiring -- like the car your aunt drives.
What about the
2014 Kia Forte
? Well, it sure looks great thanks to Peter Schreyer. However, they say one shouldn't judge a book by its cover, so let me tell you the whole story. I promise you, it's a good one.
Love at first sight
As I approached the Glittering Silver 2014 Kia Forte SX with the Smart Key in my purse, the side mirrors automatically deployed, and the door handle gently lit up to invite me in. Then, when I settled in the driver's seat and hit the Start button, a mini Forte appeared on the dashboard to greet me.
"Well hello to you, too!"
Among the first few things I noticed were the superb visibility, and abundant storage and passenger room.
The comfort zone
The leather seats in the
2014 Kia Forte SX
proved comfortable. Heck, the driver's seat is even climate-controlled, so your butt always stays warm or cool depending on the temperature -- how thoughtful! It gets better with a heated steering wheel that helps you stave off the cold.
As for interior styling: All black doesn't mean all boring thanks to various textures including carbon-fibre patterned trim.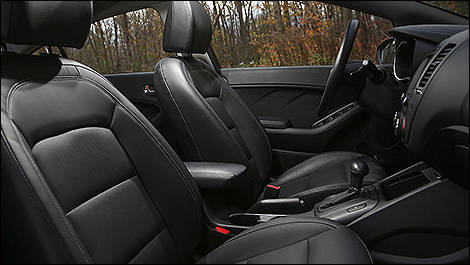 Photo: Philippe Champoux
Putting on the charm
Good news for short-armed drivers like me: The 2014 Kia Forte SX has a sliding centre armrest. Did I tell you about the slick LCD screen, SiriusXM radio, paddle shifters, dual-zone climate control system, cooling glove box, power sunroof, and GPS? I would run out of breath listing the many luxurious amenities in my tester.
I also liked the 2014 Kia Forte SX's rearview camera, the small triangular window between the A-pillars and side mirrors, and of course the loading-friendly trunk opening (no need to swing your grocery bags up in the air).

The drive seals it
I could go on and on about the wide array of features and attributes of the 2014 Kia Forte SX, but telling you how it drove may actually be more impressive. The 4-cylinder engine is lively and feisty, making for easy passing manoeuvres. That was with the automatic transmission; I suspect the manual is wicked fun.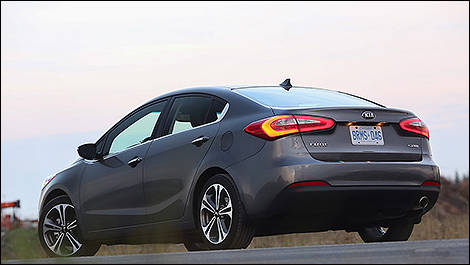 Photo: Philippe Champoux
Thinking about the next time...
This is one exception to the soporific sedan rule. I tip my hat to Mr. Schreyer for his bold approach. Now, that's what I call truly and delightfully breaking the mould.
With its many endearing qualities, fresh new looks, attractive price, and slightly delinquent nature, I would happily give the 2014 Kia Forte SX a spot in my driveway -- it's already got one in my heart!
2014 Kia Forte