Pros:
It's hard to make a case for the 2014 Scion xD beyond its convenient hatchback configuration, unless your main concern is reliability (which all Toyota-derived products boast) or you want a huge selection of dealer-installed accessories to customize your ride.
Cons:
The reality is that the Scion xD is little more than a Toyota Yaris in disguise. Technology is dated, and the driving experience fails to provide any type of thrills. The cheap interior looks and feels poorly designed and built. How does the company plan to sway buyers when the competition includes the likes of the Ford Fiesta, Honda Fit, and Hyundai Accent?
2014 Scion xD Price:
A single trim level appears on the spec sheet, and it starts at $17,785. The autobox option boosts the price to $18,685.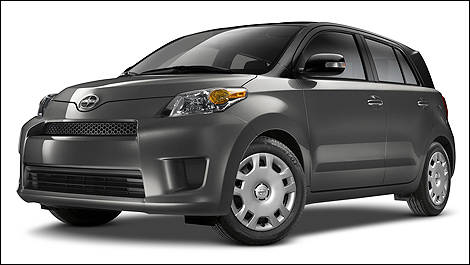 Photo: Scion
2014 Scion xD Fuel Economy:
A manual Scion xD should average 6.7L/100km, whereas its automatic counterpart should prove marginally less efficient (6.8L/100km). A 6-speed unit would definitely help increase fuel economy.
Improvements and Changes:
Other than an LCD monitor and radio data system, the Scion xD is essentially unchanged for 2014.

2014 Scion xD Powertrain:
Under the hood of the Scion xD is a 1.8L DOHC 4-cylinder engine producing a modest 128 horsepower.The standard 5-speed manual transmission can be replaced with a 4-speed automatic.
Cargo Capacity:
The decently sized trunk expands from 297 to 1,011 litres when you fold the rear seats.

Safety:
Standard features include stability and traction control, disc brakes with ABS, brake assist and electronic brake force distribution, as well as smart stop technology, which automatically cuts engine power and allows the brakes to take precedence over the accelerator when both pedals are pressed at the same time.
Comparing the 2014 Scion xD:
Make sure you take a look at other small hatchbacks, like the Chevrolet Sonic, Ford Fiesta, Honda Fit, Hyundai Accent, Kia Rio 5-Door, Mazda2, Nissan Versa Note, and Toyota Yaris.