Pros:
The 2015 Nissan LEAF is really in a class of its own. This 100% electric vehicle handles the road impressively; it is easy to maneuver and about as quiet as a mouse. Plus, the electric engine's torque performance means that it accelerates better than some compact and mid-size cars. The Nissan LEAF is also very roomy.
Cons:
The Nissan LEAF is great to drive in the city, thanks to its zero fuel consumption and regenerative braking system. Yet, highway driving remains an issue. The faster you go, the quicker the battery runs out. The Japanese manufacturer claims that the LEAF's autonomy is at least 160 kilometres. However, unless you are driving less than 90 km/h, you might be hard pressed to travel more than 135 kilometres on a full charge. In the winter, this range drops lower than 100 kilometres. Other weak points include the LEAF's relatively high price, especially for the SL model, even when considering the incentive offered by the Quebec government.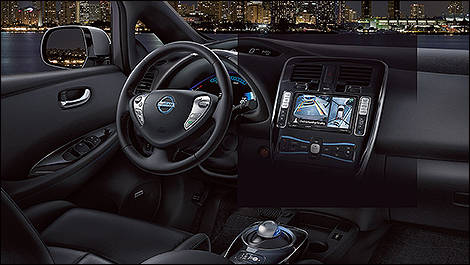 Photo: Nissan

2015 Nissan LEAF Price:
For 2015, Nissan is offering three LEAF trim packages: the S at $31,798, the SV at $35,048 and the SL at $38,548. It is worth noting that the Nissan LEAF is eligible for an $8,000 rebate from the Quebec government until December 31, 2016.
Fuel Economy:
As a matter of fact, the Nissan LEAF does not use fuel. Nevertheless, its electricity cost is equivalent to a fuel economy of 1.9 L/100 km in the city and 2.3 on the highway.
Improvements and changes:
Although its contours will be modified sometime in 2016, no significant changes have been made to the 2015 model, except that the charging time for its 24 kWh lithium-ion battery has been reduced.
2015 Nissan LEAF Powertrain:
On all 2015 LEAF trims, Nissan is offering an AC synchronous electric engine that delivers 107 horsepower (80 kW) with 187 lb-ft of torque. The engine is coupled with a single-speed automatic transmission. The LEAF's battery takes no less than 16 hours to charge when plugged into a 120-volt household outlet. Charging takes about half this time when hooked to a 240-volt source.
Cargo Capacity:
The 2015 Nissan LEAF can fit 679 litres of cargo, or 849 litres with the rear seats folded.
Safety:
The 2015 Nissan LEAF's safety features include ABS brakes, brake assist, electronic brake force distribution, dynamic stability control and traction control as well as a tire pressure monitoring system (TPMS).
Comparing the 2015 Nissan LEAF:
In this segment, you'll find other green cars like the Chevrolet Volt, the Chevrolet Spark EV, the Ford Focus EV, the Mitsubishi i-MiEV and the smart electric drive.