Pros:
On the absolute technological brink of the automotive industry, the upcoming 2015 Porsche 918 Spyder embodies the absolute core of Porsche's identity in a highly advanced new package. Blending proven racing technologies with 365-day-per-year utility and combining low emissions with maximum performance, this striking two-seater leads the brand into the next decade of advanced performance cars. It'll also be a flagship for the latest in performance hybrid technology—turning in crushing power output and low fuel consumption.
Cons:
As it tends to go with ground breaking Porsche models, the 918 Spyder is expensive, exclusive and highly unattainable for all but the most financially gifted performance car shopper.

2015 Porsche 918 Spyder Pricing:
Pricing starts at $845,000 US dollars, while the special Weissach Package will raise that figure to just shy of $930,000.
2015 Porsche 918 Spyder Fuel Economy:
Despite the monstrous power output, lightweight engineering and the latest advances in performance hybrid propulsion enable the 918 Spyder to achieve an average consumption of around 3.1L / 100km.
Improvements and Changes:
The
918 Spyder
is an all-new model, highly based on the concept version shown at the auto show circuit last year.
Don't Miss:
The electric-only driving range. With a full battery charge and the "E-Power" mode enabled, the 918 can drive up to 29 km (18 miles) on electric power only, at speeds approaching 100 mph. A driver-controlled mode selector enables the switching between various drive configurations that calibrate the 918's various powertrain systems for maximum efficiency or performance, depending on the conditions at hand. Also, don't miss the Porsche Active Aerodynamics system, which deploys various aerodynamic flaps and spoilers to optimize airflow around the car in response to various speeds and conditions.
2015 Porsche 918 Spyder Powertrain:
Main propulsion comes from a 4.6L 8-cylinder engine with 608 horsepower. The V8's 9,150 RPM redline is supported by a dry-sump lubrication system for maximum oiling at all speeds. The gasoline engine is teamed with a 115 kilowatt electric motor, with output from both systems is combined inside of the 918-specific PDK gearbox. Up front, a separate electric motor provides power to the front wheels as well, adding stability and traction when required. Combined output of the gas and electric propulsion systems tops out at 887 horsepower, which is good for 0-100 km/h runs of less than 2.8 seconds.
Safety:
The 918 Spyder delivers the latest in driver-assist technologies to maximize performance, security and control at all times. High-performance brakes and an all-LED lighting system turn in optimal stopping power and illumination, respectively.
Comparables:
Though the 918 Spyder has no direct competitors per-se, it should compete with other extreme exotic models from manufacturers like Lamborghini, Ferrari, McLaren and Pagani.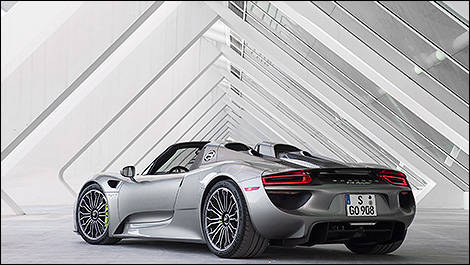 Photo: Porsche
2015 Porsche 918 Spyder