Having caused quite a buzz at the 2017 North American International Auto Show in Detroit at the very beginning of the year, the new second-generation 2018 Volkswagen Tiguan revealed its many charms to our contributor Denis Duquet, who reviewed it in late June. Now available at Canadian VW dealerships, it's also winning over the first wave of buyers―the most common verdict being that it's now better adapted to meet their needs.
Consumers currently in the market for a compact SUV will want to check out our list of 10 good reasons to buy a 2018 Tiguan, priced starting at $28,925:
1. The new model has grown since the previous edition – literally (268 mm longer, and a wheelbase longer by 186 mm), and as an option it can accommodate 7 occupants.
2. While the third-row seats are really only practical for children, access is easy thanks to the rail-mounted middle row of seats.
3. There is more space inside, not just for the passengers but also for their luggage and gear – 25% more, to be exact. In the model fitted with a 50/50 third bench, when that row is installed cargo volume is 340 litres; remove it and you get 935 litres; fold down the middle row and that increases to 1,860 litres. Choose the five-seat model and that cargo space jumps even higher: its trunk can hold 1,065 litres, or 2,080 with the back seats folded down.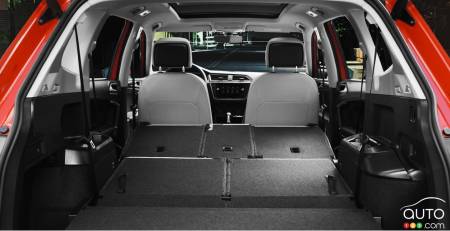 4. Having tested out just about all the new compact SUVs out there, we can tell you that the finishing in the 2018 Tiguan is impeccable, the attention to detail impressive. What's more, everything is within easy reach and the ergonomics are pretty nearly flawless.
5. Specialists in maximizing the driving experience, Volkswagen here put together a faultless driving position, thanks particularly to the very comfortable seats and pleasant grip of the steering wheel.
6. The older Tiguan was notable especially for its finely-tuned driving dynamics, attained in part via a suspension that provided good stability when cornering without being overly firm. Despite its greater heft, the new edition has lost none of these qualities.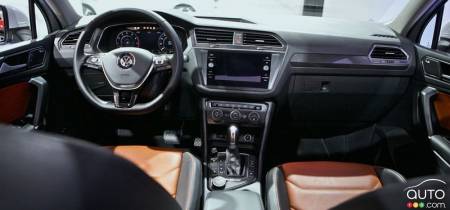 7. While only one engine is offered, that engine is the spanking-new version of VW's 4-cylinder TSI turbocharged motor with direct injection. While overall output decreases slightly from 200 to 184 hp, overall torque is now 221 lb-ft (+14) and is available in the 1,600-to-3,490 range – making for a decidedly feistier new Tiguan.
8. Aided by an 8-speed automatic gear box, the 2018 Tiguan consumes on average 9.8L/100 km (in the front-wheel drive version). Those choosing the efficient all-wheel version are penalized only another 0.4L/100 km.
9. With the App Connect system, offered standard, it's possible to search online easily for music, itineraries, restaurants or whatever else you need to find. You can dictate text messages or listen to your messages, all while keeping your eyes on the road. The system is compatible with Android Auto, Apple CarPlay and MirrorLink.
10. More sophisticated than its predecessor, the 2018 Volkswagen Tiguan offers some pretty luxurious optional features, like adaptive LED lights, retractable panoramic sunroof, high-end Fender audio system and a digital dashboard very similar to what you'd find in an Audi.
2018 Volkswagen Tiguan