Team Abu Dhabi has won the 24 Hours of Dubai for the second consecutive years.
Jeroen Bleekemolen, Khaled Al Qubaisi, Sean Edwards and Bernd Schneider drove the No. 1 Mercedes SLS AMG GT3 to the top step of the podium, finishing two laps ahead of the AF Corse's No. 16 Ferrari F458 Italia GT3, driven by Lorenzo Carvalho, Marco Cioci, Stéphane Lemeret, Lorenzo Case and Mika Salo.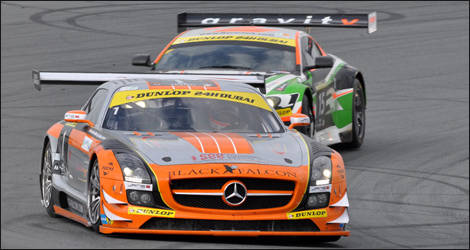 The winning No. 1 car (Photo: DubaiAutodrome.com)
Team Abu Dhabi won despite crashing its primary car Wednesday in testing. The team had to resort to a rival team's chassis, and work through two days and night to get a new car ready in time.
The No. 15 Craft Racing Aston Martin Vantage GT3 of Frank Yu, Tomonobu Fuijii, Darren Turner and Darryl O'Young claimed the last podium spot.
Sadly for BMW, none of its Z4 GT3 machines saw the finish.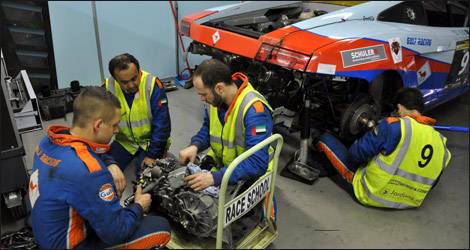 Mechanics having their lunch (Photo: DubaiAutodrome.com)
The all-lady team of Racing Divas, fielding a BMW 320D, scooped the top step of the podium in its A3T class.
Canadian Matthew Dileo finished 72nd overall, fourth in the D1 class, despite the four drivers managing only 144 laps in Cor Euser Racing's No. 152 BMW 120D.
Jean-Charles Perrin, the other Canadian in the race, never made it to the start, as his Leipert Motorsport Lamborghini was destroyed in practice.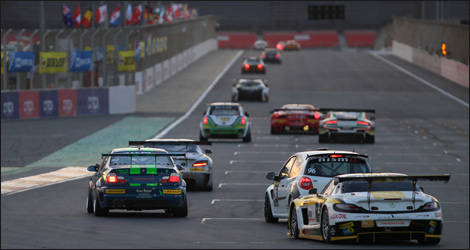 Sun sets on the 2013 Dunlop 24 Hours of Dubai (Photo: DubaiAutodrome.com)
Race results – 2013 Dunlop 24 Hours of Dubai (Dubai Autodrome)
1. Abu Dhabi by Black Falcon 1 (Mercedes SLS AMG GT3) – 600 laps
2. AF Corse SRL 2 (Ferrari 458 Italia GT3) – 598 laps
3. Craft Racing AMR (Aston Martin Vantage GT3) – 594 laps
4. FACH AUTO TECH 2 (Porsche 997 GT3 R) – 56.582s
5. Preci-Spark (Mercedes SLS AMG GT3) – 587 laps
6. FACH AUTO TECH 1 (Porsche 997 GT3 R) – 582 laps
7. Abu Dhabi by Black Falcon 2 (Mercedes SLS AMG GT3) – 580 laps
8. JLOC (Lamborghini Gallardo LP600+) – 579 laps
9. Stadler Motorsport (Porsche 997 GT3 R) – 568 laps
10. Lapidus Racing (McLaren MP4-12C GT3) – 565 laps
(…)