Designed with input from McLaren Formula 1 driver Jenson Button, a limited edition unisex t-shirt commemorates Jenson's father, John Button, who sadly passed away earlier this year.
McLaren wants to turn Silverstone pink so it invites everyone to wear their #PinkforPapa t-shirts and join the tribute to John Button at the British Grand Prix on July 6.
The purchase will also benefit Jenson Button's preferred charity – the Henry Surtees Foundation, which was set up by John Surtees in memory of his son Henry, to assist and support people with injuries caused by accidents, injuries, and provide resources and assistance for young people to develop their skills.
If you would like to buy a John Button pink t-shirt:
click here
.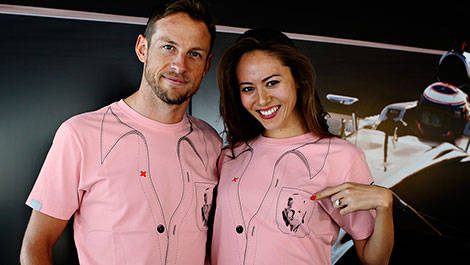 Jenson Button and Jessica wearing John's t-shirt. (Photo: McLaren)