Hungarian journalist, Méhes Károly, is currently putting the finishing touches on his book about the famed Formula 1 driver, Gilles Villeneuve.
Titled Gilles Villeneuve –
His untold life from Berthierville to Zolder
, this new book contains 44 exclusive interviews Karoly conducted between October 2013 and August 2014 with key people who worked alongside Villeneuve.
Károly talked about Villeneuve with people such as Mauro Forghieri, Antonio Tomaini, and former mechanics of the Ferrari team, Jody Scheckter, Carlos Reutemann, Mario Andretti, Patrick Tambay, Nigel Mansell, Bernie Ecclestone, and Jackie Stewart.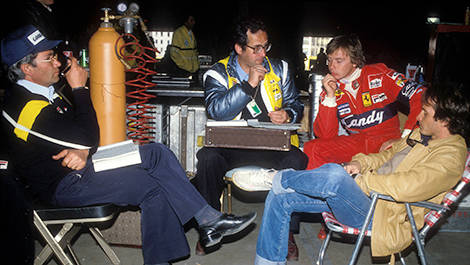 Left to right - Antonio Tomaini, Mauro Forghieri, Didier Pironi and Gilles Villeneuve, German Grand Prix, 1981 (Photo: WRI2)
Károly was born behind the Iron Curtain in Győr, Hungary. He became a fan of Formula 1 when he followed Niki Lauda's courageous comeback after his terrible accident in 1976.
Gilles Villeneuve made a big impression on him when he arrived at Ferrari at the end of 1977.
"I immediately liked Gilles' attitude in his first full season, and of course I admired him later on when he scored his victories and demonstrated his never-give-up driving style, most evidently in Holland, 1979," Károly told
Auto123.com
.
The author added that the 200-page book will contain dozen of photos, many of which have never been published before.