As reported by Kia
Kia Motors today globally unveiled the all-new 2012 Rio sub-compact sedan at the New York International Auto Show. Scheduled to join the Kia Motors lineup this fall - along with its hatchback sibling unveiled at the Geneva Motor Show and shown today for the first time in North America - the all-new Rio ushers in the next chapter of Kia Motors' ongoing design-led transformation with previously unseen levels of eye-catching design, advanced technologies and sophistication in the small car segment. With all-new ISG technology and class-leading horsepower and fuel economy of 40 miles per gallon , Rio promises consumers impressive fuel efficiency without sacrificing power or fun-to-drive performance.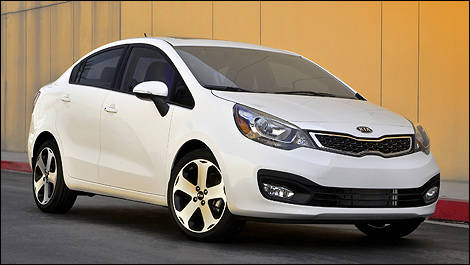 Photo: Kia
"The all-new Rio provides both first time Kia buyers and current customers a world-class fuel efficient vehicle that doesn't sacrifice safety, quality and design typically found on higher priced vehicles" said Robert Staffieri, Director of Marketing Kia Canada Inc. "Both the sedan and 5 door hatchback will offer consumers generous interior space and comfort which will appeal to a variety of different lifestyles."
Class-Leading Fuel-Efficiency and Horsepower
Available in three trims - LX, EX and SX - the 2012 Rio is available with a 1.6-litre GDI four-cylinder with the option of either a six-speed manual transmission or six-speed automatic. One of only two vehicles in the segment to offer a GDI engine, the 2012 Rio offers consumers an elusive combination of power and impressive fuel efficiency, achieving class-leading 138 horsepower while also maintaining a class-leading fuel economy rating of 30/40 mpg (city/highway) . Rio also offers ISG technology, new to the Kia lineup, where the engine turns off when the vehicle is not in motion such as at a stop light or in traffic. The engine restarts automatically when the driver releases the brake pedal, resulting in lower levels of fuel consumption.
Adding further to Rio's improved performance, engineers worked to reduce engine weight by 29 pounds over the previous generation by adding an aluminum valve cover and block to the third-generation Gamma engine, while incorporating cast iron lining for increased durability.
Sleek and Streamlined Exterior
Conceived at Kia's design studios in Irvine, Calif., the all-new Rio sub-compact sedan and hatchback exhibit highly sculpted sloping shoulder lines and wedge-shaped exteriors, projecting an athletic profile that conveys power and agility while mimicking the aggressive lines found on other recently launched Kia vehicles such as the 2011 Optima and Sportage. Both Rio models sport their own interpretations of Kia's signature grille, slimmed down to connect to the dynamic headlamp design, providing a new twist on the Kia family look that includes a bigger air intake to exude a youthful persona. The Rio sedan shares the sleek skin of its hatchback sibling, only dropping the wedge line slightly toward the rear door down to the trunk.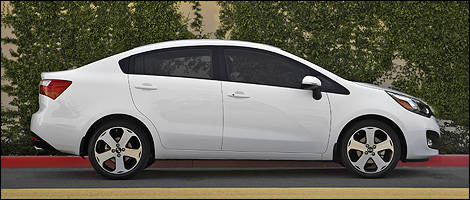 Photo: Kia