When it comes to the innovations and advanced technology behind the ground-up, totally new 2013 Nissan Altima design, some things might be considered evolutionary. Take the body, the engines, transmission, suspension, steering, seats, the instrument panel, navigation system, music connection, armrest, windshield wipers, and tire pressure monitoring system. The previous generation Altima had them. This generation does too.
Not a big deal. Until you take a little closer look. Call it evolution on the edge. Or evolution to the extreme. Or simply call it a design that is about to revolutionize what people think about Altima – and what a mid-size sedan can be.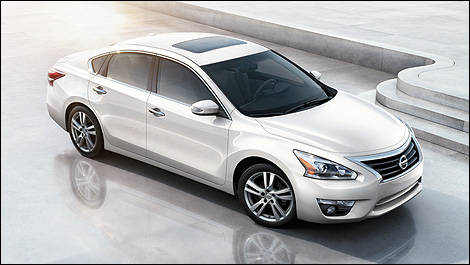 Photo: Nissan
Consider
:
A body, that while clearly recognizable as an Altima, is lighter, more rigid and cuts a cleaner path through the wind
A 2.5-liter inline 4-cylnder engine that is lighter, stronger, quicker and more fuel-efficient (combined with the new transmission design) than the previous 2.5-liter design
An next-generation Xtronic CVT® that takes Nissan's two decades of Continuously Variable Transmission leadership into a new dimension of smooth operation and fuel efficiency
A new, refined rear multi-link suspension that could be equally at home on a premium European sports sedan
A hybrid power steering system that combines the feel of a traditional hydraulic box with the efficiency of modern electric control
Front seats that take their inspiration from outer space technology – for out-of-segment comfort
An intuitive 3D-effect information display that's easier to watch than many 3D Hollywood blockbusters
Navigation that's never outdated and loves to tell you where to go, even more than your spouse
A music connection that Pandora®'s to your every mood
An armrest that's more padded than your typical expense account
Windshield wipers that help you avoid tickets
And a tire pressure monitoring system that tells you when you are full of air
Of course, when considering an Altima that is "new and improved," you also need to consider the "new and never available before." For example, an advanced RearView Monitor camera that detects four views is utilized to bring Altima into premium sedan territory with available Blind Spot Warning (BSW), Lane Departure Warning (LDW) and Moving Object Detection (MOD).
Following are closer looks at just a few of the individual components and systems that make the all-new fifth generation the most revolutionary Altima ever.
As reported by Nissan Canada