Eight drivers will race in two, and some in three, categories, when the American Le Mans Series (ALMS) and Grand-Am championships visit Road America next weekend, in the first shared weekend for the two series that are merging next year.
Bill Auberlen, John Edwards and Spencer Pumpelly will race in the ALMS, Grand-Am and Continental Tire Sports Car Challenge, where as Leh Keen, Patrick Long, Maxime Martin and Tristan Nunez will "only" race in two series.
"The most important rule is to pay attention," warned Pumpelly, who will drive three different Porsche cars (a Cayman, a 911 Carrera and a GT3 Cup car) over the weekend. "You have to remember which pit pox you need to pull in to, and some of the particular rules of the series."
The one driver that will have to be especially careful is Tristan Nunez. The 17-year-old Floridian will have to switch between an FLM09 prototype in ALMS, and a diesel-powered Mazda 6 in Grand-Am.
In order for the eight men to be able to switch back and forth between race teams, officials have split the weekend in half days, each featuring a specific championship.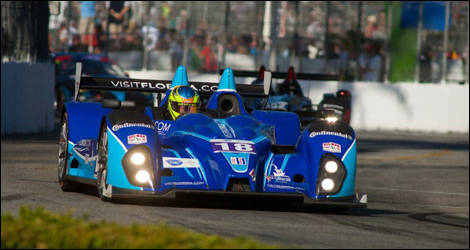 Tristan Nunez, ORECA FLM09 (Photo: Darren Pierson/DPerceptions)