Canadian Andrew Ranger took his third career victory by winning the ARCA Racing Series' Barbera's Autoland 150 at the New Jersey Motorsport Park.
Ranger, who started from pole, passed Chase Elliott with 10 laps remaining in the race then sailed to his third ARCA Racing Series career win.
Andrew Ranger was able to widen his gap on Elliott, who was also passed by runner-up finisher Tom Hessert in the Cunningham Motorsports No. 77 Barbera's Autoland Dodge.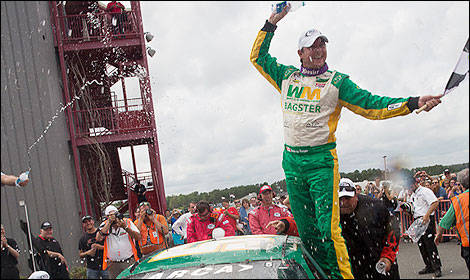 Andrew Ranger. (Photo: ARCA)
Ranger has now won three straight ARCA events at New Jersey Motorsports Park. With his second place finish, Hessert came home with his career-best road course finish.
Will Kimmel finished fourth in his No. 69 Messina Wildlife Ford and Frank Kimmel, in the No. 44 Ansell-Menards Toyota finished fifth.
Ranger, driving the No. 53 Waste Management Bagster Dodge, led 30 of 67 laps. The Roxton Pond, Quebec, native has now won three consecutive races on the Thunderbolt Course at NJMP.