From press release
Audi has won the Nürburgring 24 Hours exactly one week following the brand's 13th success in the Le Mans 24 Hours.
Phoenix Racing with the Audi R8 LMS ultra celebrated a hard-fought victory in its home round in the Eifel. Ernst Moser's squad had previously taken the honors in the race through the 'Green Hell' with Audi's GT3 sports car in 2012. With 159 laps the R8 LMS ultra set a new distance record this year.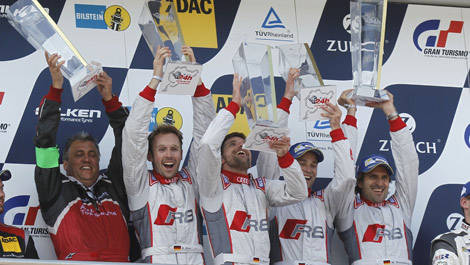 Photo: Audi
For the first time ever, a Nürburgring winner covered more than 4,000 kilometers – the successful Audi squad completing exactly 4,035.102 kilometers.

"Sincere congratulations to the winners and a sincere 'thank you' to our customers for their appearance at the Nürburgring," said a pleased Romolo Liebchen, Head of Audi Sport customer racing.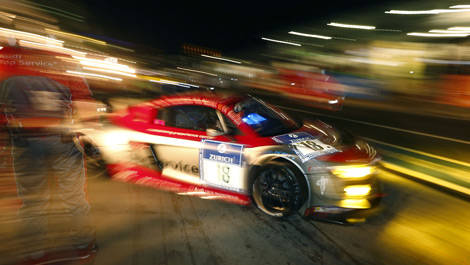 Photo: Audi
"We saw a true classic this weekend in which all the qualities of endurance racing were crucial: first-class technology, reliable drivers, a good strategy and a solid team performance.
"I'm happy that we managed to clinch our second victory in three years against such fierce competition in one of the world's toughest endurance races."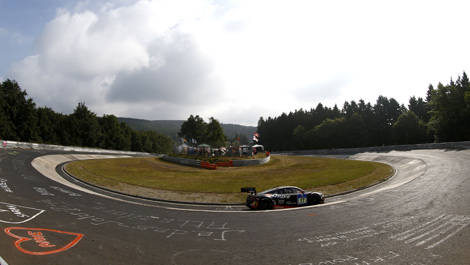 Photo: Audi
Race results – Nürburgring 24 Hours

1 Haase/Mamerow/Rast/Winkelhock (Audi R8 LMS ultra), 159 laps

2 Bleekemolen/Simonsen/Menzel/Arnold (Mercedes), + 2m 59s

3 Zehe/Hohenadel/Bastian/Engel (Mercedes) – 2 laps

4 Henzler/Dumbreck/Ragginger/Imperatori (Porsche) – 2 laps

5 Mücke/Turner/Lamy (Aston Martin) – 2 laps

6 Klingmann/Baumann/Hürtgen/Tomczyk (BMW) – 2 laps

7 Primat/Götz/Heyer/Rehfeld (Mercedes) – 3 laps

8 Stuck/Sandritter/Brück/Rostek (BMW) – 5 laps
9 Baumgartner/Werner/Biela/Kaffer (Audi R8 LMS ultra) – 6 laps

10 Busch/Busch/Lauck/Landmann (Audi R8 LMS ultra) – 7 laps
(...)