When auto companies come up with a new name for a new version of a model they already have, it's usually done to make consumers understand that it's a whole different proposition than the one it's replacing.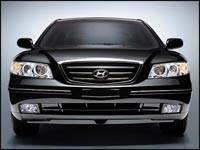 2006 Hyundai Azera (photo : Hyundai Motors)
Which is exactly what we're supposed to think when we look upon the 2006 Hyundai Azera, the replacement for the XG 350 mid-size sedan as the Korean firm's flagship model.
This new model is meant to help the ambitious Korean company move from its proletarian past to a more upscale future, one that makes it more profitable from a greater share of the global auto market. In Canada, for example, the idea is for Hyundai to sell about twice as many vehicles a year as it does now, on better versions of current vehicles and new models altogether.
Azera is the third of seven all-new or redesigned Hyundai vehicles to be launched in a 24-month period, so we can expect four more within a year or so.
For its part, says Robert F. Cosmai, president and CEO of Hyundai Motor America, ''Azera will earn distinction for segment-leading standard safety features, refined styling, and content that is generally reserved for higher-priced luxury sedans.''
Cosmai says the word ''Azera'' is meant to evoke a feeling consistent with Hyundai's new global brand slogan -- Drive your way. Its etymology includes the phrase "the era of A to Z'' and is meant to recall the French word "azure,'' which is the color of blue skies, which is ''an optimistic color that reflects Hyundai's focus on the future.''
Cosmai believes that, at first sight, Azera is clearly ''an extraordinary sedan. The graceful lines are aerodynamically efficient, reducing wind noise while still ensuring a spacious cabin. The dramatic roofline and rear quarter set the Azera apart from other sedans in this class.''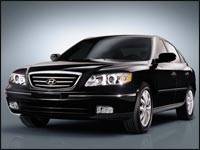 2006 Hyundai Azera (photo : Hyundai Motors)
All together, says Cosmai, Azera is ''a well-balanced design that pays homage to the other Hyundai models in the line-up while also forging new ground.''
The homage part is supposed to be the ''sleek and modern'' aspects that are ''becoming signature Hyundai design characteristics,'' aid Cosmai. ''The Azera's well-designed exterior matched with the ergonomic and feature-rich interior really captures the essence of the new generation of Hyundai vehicles.''
On the road, the Azera is meant to deliver ''spirited performance, thanks to an all-new, all-aluminum 3.8-liter V-6 that delivers more standard horsepower than the Ford Five Hundred or the Buick LaCrosse.''
The official results are not in yet on the 3.8-litre engine, but Hyundai is shooting for 265 hp at 6,000 rpm and 257 lb-ft of torque at 4,500 rpm.
This engine is also environmentally friendly, Cosmai points out, as it is projected to achieve Ultra Low Emission Vehicle certification levels.
The V-6 comes is mated to a five-speed automatic transmission with Shiftronic manual control, which allows the driver a certain amount of leeway in selecting the gear.
Cosmai says Azera's ''road manners are well-honed, with responsive four-wheel independent suspension featuring double-wishbone front suspension and multi-link rear suspension, all riding on alloy wheels. Clearly,'' he asserts, ''the Azera has the hardware to go wheel-to-wheel with the competition.''