Bentley today unveiled the new Continental GT3-R, a rare and dynamic luxury coupe that's set to find a home in just 300 driveways worldwide by the end of 2014.
This two-seater boasts a retuned version of Bentley's race-proven, high-performance 4.0L twin-turbo V8 engine. Producing 572 horsepower, together with a 100kg weight reduction and shorter gearing, the Continental GT3-R is the fastest-accelerating Bentley ever built, going from 0-100 km/h in 3.8 seconds.
Outside, you'll notice the massive 21'' wheels, new front splitter, and new fixed rear wing in carbon fibre. All 300 units will be finished in Glacier White and sport two-tone green graphics.
The interior of the Bentley Continental GT3-R features new custom sport seats with additional side support, Beluga black leather, and diamond-quilted Alcantara. Both the centre console and fascia panels are handcrafted in carbon fibre, while green accents and stitching provide unique contrast.
Pricing for the Continental GT3-R has yet to be disclosed, but like any self-respecting Bentley, this car will be far out of reach for most people.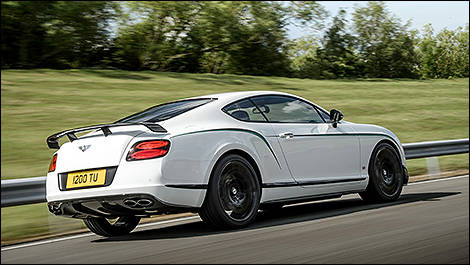 Photo: Bentley