Next week at the New York Auto Show, Cadillac will unveil an all-new 420-horsepower, twin-turbo V6 engine which will become the signature of the 2014 Cadillac CTS when it goes on sale this fall.
"The new Cadillac Twin-Turbo brings a new dimension of technologically advanced performance to the all-new 2014 Cadillac CTS sedan," said David Leone, executive chief engineer. "Delivering power and sophistication, it marks another large step forward in the product-driven expansion of Cadillac."
This engine is more powerful than the 3.0L unit in the BMW 535i (300 hp), and even the 4.4L V8 of the BMW 550i (400 hp). Cadillac says the new CTS will sprint from 0-60 mph (96 km/h) in an estimated 4.6 seconds, and reach a top speed of about 274 km/h.
A naturally aspirated 3.6L V6 (321 hp) and a 2.0L turbocharged 4-cylinder (272 hp) will also be available with the 2014 Cadillac CTS.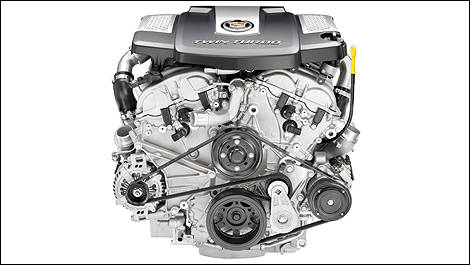 Photo: Cadillac