From Toyo Tires F1600 Series
The Toyo Tires F1600 Championship Series is back at Canadian Tire Motorsport Park this weekend for the BARC Canadian Touring Trophy Races, rounds 7 and 8 of the Championship.
Ottawa, ON resident Zach Robichon has a commanding lead in the "A" Class Championship over veteran Shane Jantzi of Ayr, ON. Clarendon Hills, IL resident Jack Mitchell, Jr. sits 3rd and has decided to compete for this Championship, forgoing the Formula Tour event taking place in Mt. Tremblant this weekend.
Mitchell, Jr. is on a hot streak as of late, fresh off winning both events last time out and seems to really be hitting his stride. He will be supported by Exclusive Autosport teammate Max Hanratty as he battles Robichon for "A" Class honours.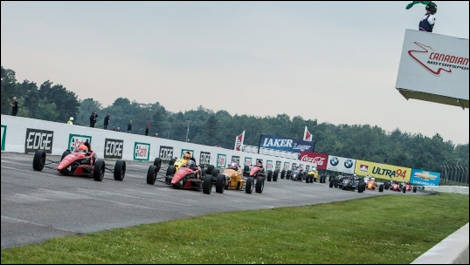 Photo: Michael Haley
Craig Willis sits atop the "B" Class Championship points standings but has seen his lead eroded in the last few rounds – missing one event because of a blown motor and having to face an impressive drive by Mike Gayowski, winner of the last event's MK Technologies Award. Willis will also be tested by Andrew Mason, returning to the series after missing the last round. Mason had a great battle with Willis at Shannonville and looked like a good bet at grabbing the top step of the podium before suffering an engine failure.
Gayowski sits tied for 2nd in the points with Graham Lobban. Lobban has shown great form and delivered impressive results having missed the opening two rounds of the Championship. Rookie Connor Wagland is right there in 3rd place and continuing to progress each and every time out.
Exclusive Autosport has split their 4 car team up this weekend as they have a legitimate shot at winning both the Formula Tour and Toyo Tires Championships so it will be interesting to see how they fair.
Jesse Lazare has returned to the series after competing in the Honda Indy Toronto's USF2000 rounds, and has jumped over to Brian Graham Racing's Piper Honda Team as his regular team – Britain West – concentrate on the Formula Tour this weekend.
Twenty cars are expected to compete this weekend with Paul Bollenbach making his first appearance of the season.
"Things are really starting to heat up in both Championships," said Jason Sharpe, promoter for the series.
"(Zach) Robichon will be in a real fight with (Jack) Mitchell, Jr., and (Jesse) Lazare will be under the BGR awning as well adding a little boost to that program. (Craig) Willis is feeling a little heat from the veterans in his Championship as well so the racing all throughout the field will be very intense, it's going to be a great weekend," he added.
Cars will hit the track on Friday for a full day of testing and the racing will begin with Round 1 on Saturday and Round 2 on Sunday afternoon.