From press release
Luke Chudleigh returned to Canada last week for a successful operation to fix his fractured right thumb, the damage done a couple of weeks back while contesting the opening race of Round 5 of the 2014 Formula Renault 2.0 ALPS Series, held at Italy's Autodromo Nazionale Monza.
The Milton, Ontario racer suffered a 'Bennett's Fracture' to his thumb following a violent run over a kerb at the Italian track on Saturday July 5.  
He was challenging for a top-five slot on the final lap when the incident happened but he completed the race in sixth and was keen to take Sunday's start, despite his injury, before being ruled out by series organizers and FIA guidelines.
Chudleigh, who sits eighth in the Formula Renault 2.0 ALPS driver standings – with several top-six finishes to his credit, flew back to Canada and had his thumb operated on last Friday.  
Two pins have been inserted to fix his thumb, one through his thumb joint and the other to pin to his index finger.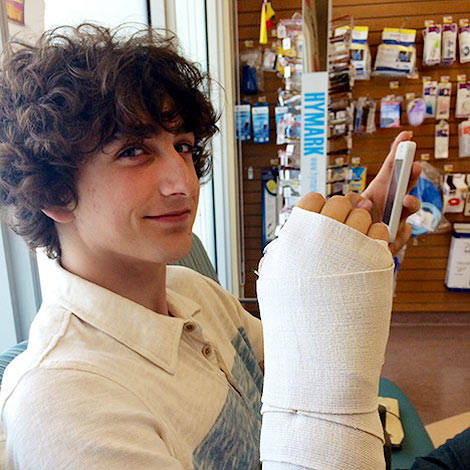 Luke Chudleigh. (Photo: Luke Chudleigh Racing)
A three-week programme of rehabilitation and physiotherapy will follow to get Luke back ready for his next outing for Tech1 Racing, a pre-race test at Italy's Mugello circuit at the end of August.
"Well if there's a positive out of my current situation it's certainly that I sustained the injury ahead of a decent break in the ALPS schedule," commented the 19-year-old.  
"I was obviously frustrated to miss the second start at Monza, not least as I knew we had a good package there given my performance on the Saturday.
"I came back to Canada and am happy to report that Friday's surgery on my thumb went well.  I'm now doing what needs to be done to heal as quickly as possible.  My hand's a little cumbersome right now with the cast and pins but they'll be off and out soon enough.  I'm using the opportunity here at home now to catch up with my sponsor's like the team at Vitamindrip, it's great to be able to go in and visit and spend time with them.  I can't wait to get back in the car though.  Mugello can't come fast enough!"