Audette brothers Rémy and Mathieu each won a race of the Canadian Touring Car Championship (CTCC) presented at the famous Grand Prix de Trois-Rivières, to keep alive their winning streak.
It's the third consecutive CTCC weekend they sweep both wins.
Mathieu, at the wheel of his RSX Type S, won Friday night's race, 3.3 seconds ahead of Bob Attrel's Hyundai Genesis Coupe. Alex Healy completed the podium aboard an Acura RSX Type S of his own.
The second contest, held Sunday, was slowed down by full course cautions.
Mechanical problems forced race 1 winner Mathieu to a DNF in the very first lap, while Healy was collecting former hockey star Marc-André Bergeron from behind. Healy's car suffered the most damage and had to be rescued as it was blocking the track.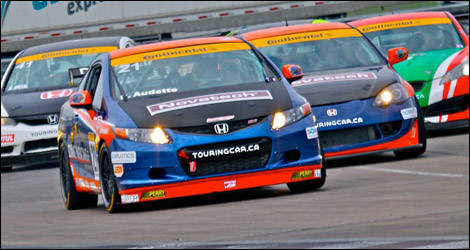 Audette leads Audette (Photo: CTCC)
Back to green, Rémy (Honda Civic) was leading ahead of former champion Nick Wittmer (Honda Accord Coupe) and Roger Ledoux (Subaru Impreza WRX STI LP400). But their run for the checkered was interrupted moments later by another incident.
Paul Gravel (MINI Cooper S) had understeered into the wall of turn 2, and bounced back into the path of Jocelyn Fecteau (Scion Tc). Neither driver were hurt, but the safety car had to come back out.
The order when the race resumed had Audette still leading from Wittmer and Ledoux, followed by Marc-André Bergeron and former F1600 champion Nathan Blok.
Two laps from the end, Blok made the most of a small mistake by Bergeron to overtake him in turn 1.
The order at the checkered saw Audette win in front of Wittmer and Ledoux, with Blok and Bergeron completing the top five.
Scott Nicol (Honda Civic Si), Jonathan Rashleigh (Hyundai Genesis Coupe), Bob Attrell, Michel Sallenbach (MINI Cooper S) and Jocelyn Hébert (Honda Civic Si) rounded out the top 10.