As reported by Lamborghini
Italian super sports carmaker
Lamborghini
surprised audiences at the
2010 Beijing Auto Show
with a highly exclusive edition of the Murciélago LP 670-4 SuperVeloce. The Chinese Edition is limited to not more than ten numbered cars and will be offered to the growing group of sports cars collectors in China only. Furthermore the
Gallardo LP 570-4 Superleggera
celebrated its Asian premiere on the Beijing auto show.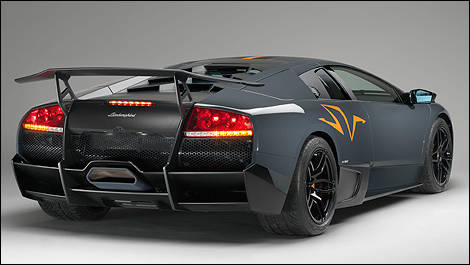 Photo: Lamborghini
"Automobili Lamborghini's strong performance at the 2010 Beijing Auto Show and its launch of a special edition of the flagship Murciélago LP 670-4 SuperVeloce exclusively for the Chinese market underscore our unwavering commitment to China and the development of a super sports car culture here," said Stephan Winkelmann, President and CEO of Automobili Lamborghini S.p.A. "Last year, Automobili Lamborghini achieved 11 percent growth in China. At the beginning of this week on 20th of April, we have launched our seventh Automobili Lamborghini China dealership in Shenzhen. The inauguration of our eighth showroom in Xiamen will come soon. It is our pleasure that we can share our passion for Lamborghini with China's super sports car drivers, collectors and fans."
Murciélago LP 670-4 SuperVeloce China Limited Edition
Limited to only ten cars worldwide, the special edition Murciélago LP 670-4 SuperVeloce is designed and manufactured exclusively for China's most discriminating super sports car enthusiasts. An orange stripe, symbolising the strength of an erupting volcano, decorates the flat grey painted carbon shell of the Murciélago. Every model holds a numeration badge with the name of its owner.
The Lamborghini Murciélago LP 670-4 SuperVeloce is one of the most fascinating super sports cars of all times. The exceptionally purist and even more extreme top model – the Murciélago LP 670-4 SuperVeloce – is even more powerful, lighter and faster than the Murciélago LP 640. With the output of the 6.5 liter V12 increased to 670 hp and a weight reduction of 100 kg (220 lbs), the Murciélago LP 670-4 SuperVeloce boasts a power-to-weight ratio of 2.3 kg (5.1 lbs) per hp. It vaults itself from zero to 100 km/h in just 3,2 seconds and hits top speed at 342 km/h.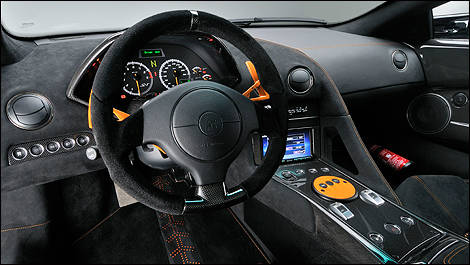 Photo: Lamborghini