The 2013 Hyundai Veloster Turbo, which made its debut at the 2012 North American International Auto Show in Detroit, will give the likes of the Volkswagen GTI and MINI Cooper S a serious run for their money when it hits the road this summer.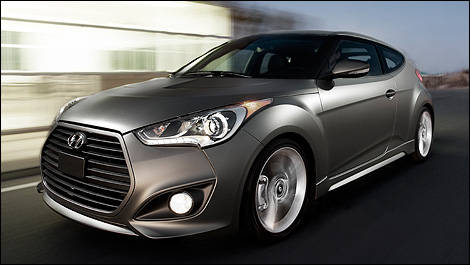 Photo: Hyundai
A new 1.6L Turbocharged-Gasoline Direct Injection (T-GDI) engine will partner with a 6-speed automatic or manual transmission to crank out 201 hp at 6,000 rpm and 195 lb-ft of torque from 1,750 to 4,500 rpm. This would make for a best-in-class output of 125.6 hp/L and best-in-class power-to-weight of 14 lbs/hp, Hyundai says.
Fuel consumption is rated at 6.2L/100km on the highway and 8.7L/100km in the city.
Sport-tuned steering and exhaust system, uniquely styled 18'' alloys, a body kit, and an exclusive Graphite Black interior with blue accents and headliner graphics will further separate the 2013 Hyundai Veloster Turbo from the normally aspirated car.
Pricing will be announced later this year.
2012 Hyundai Veloster