Chrysler will use the upcoming Los Angeles Auto Show to officially unveil the 2012 Dodge Charger SRT8 Super Bee, a muscle car for drivers who only care about one thing: going fast.
This special edition model is a modern take on the legendary Super Bee first introduced in 1968. The automaker revived the nameplate from 2007 to 2009 as an exclusive version of the Dodge Charger SRT8. Now, after a two-year hiatus, it's back and more powerful than ever.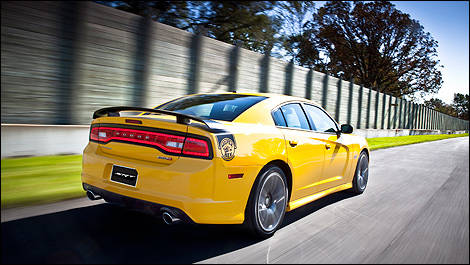 Photo: Chrysler
Available in Stinger Yellow or Pitch Black, the 2012 Dodge Charger SRT8 Super Bee makes the most of a 6.4L HEMI V8 that generates 470 horsepower and 470 lb-ft of torque, sprinting from 0-60 mph (97 km/h) in under 5 seconds.
A number of race-inspired tweaks inside and out elevate this model above the rest. Once again, the folks at Chrysler have managed to resurrect and add pizzazz to a car from their glory days.
The Canadian-built 2012 Dodge Charger SRT8 Super Bee will enter a limited production run before going on sale in the U.S. during the first quarter of 2012. No word yet on a potential release this side of the border.