As reported by DOK-ING
Geneva
– Among over 60 'vehicles of the future' from all over the world, at the very entrance to the Green Pavilion of the Geneva motor show stands out the Croatian
XD concept
of the Zagreb
Doking
. It has been pointed out in organizer's official reports as an example of good approach in electric car concepts, defying the generally established opinion qualifying them as slow and uncomfortable. It has drawn a great attention of both the visitors and investors the very opening day, as reported by a great number of media.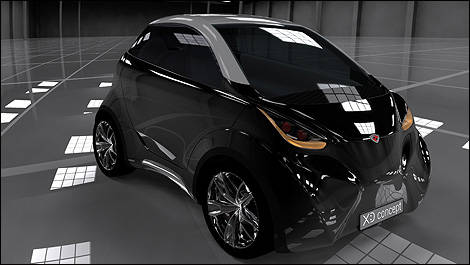 Photo: DOK-ING
As the beginning of its world debut it looks more than encouraging, it is stressed in Doking. Their vision that the world needs to be presented with an attractive, comfortable and spirited urban car, 'battery powered' of great autonomy, has proved to be right. In this small in length but attractive body of XD, there is a power of the sports car which by a touch screen display may be changed to the economic one suitable for urban driving, when on 100 kilometres its consumption is in the range of mere 7 HRK (1 €) for electric energy, or respectively the cost of one litre of petrol and with one charging it achieves up to 250 km.
Judging by first reactions of the world automobile industry representatives, visitors, the expert public and all those following the Geneva motor show via internet and other media, among the most impressive features of the Zagreb XD is the self-confident appearance of its likable round body, gull-wing doors, unique rear signal lights in the shape of letter 'X' and the spacious interior owing mostly to an interesting disposition of seats – the driver in front in the middle of the car, and the passengers sideways behind him, which gives all of them a lot of space. This is confirmed also by the first results of the opinion survey carried out by Doking both on the motor show as via internet (xdconcept.com).
Although it is a bit early to give a complete estimate of our success among 250 exponents from ca. thirty countries participating at the 80th International Geneva Motor Show, which according to expectations will be visited by over 700.000 spectators, we think that the initial recognition of Croatia as the one among those who offered the automobile world a new fresh idea is a great tribute to our technical and intellectual capital, it is stressed by Doking.
Our hearts greatly rejoiced in reactions of Italian designers, which have been enthusiastic about the emotional design of the organic form of XD to such extent that they would like to have it in their production plants, says Mr. Vjekoslav Majetić, the conceptual creator and chief design engineer of XD and director of Doking, adding: It has been the result of having faith in our own potentials and in our team of young talented experts with hearts same as that of our sportsmen whose fire and enthusiasm makes them win the Olympic medals and beat the 'bigs' at the world contests.
It is to our great pleasure, continues Mr. Majetić, that not only many renowned world automobile producers had been surprised by our courage and enthusiasm with which we have completed this prototype within according to them impossibly short term, but we have also very positive reactions from potential investors in XD project, who have initiated business meetings with us on the very first day of the show, leading us to hope that its future serial production may begin soon. The most frequent words of the visitors of our stand have been, quote: "When and where"?