German car manufacturer, Audi shuffled its lineups in preparation for the 2014 season of the DTM.
In 101 days, the new DTM season will start at the Hockenheimring and the Audi driver teams have now been confirmed.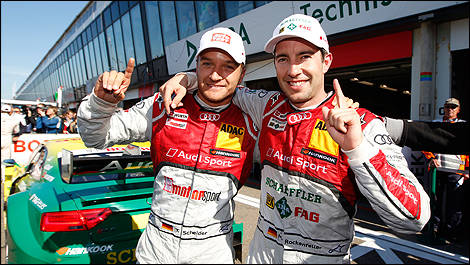 Timo Scheider and Mike Rockenfeller, Audi 2013 (Photo: Audi)
"Audi has always been committed to continuity with the drivers, as well as to a consistent approach of working with young talents," said Head of Audi Motorsport Dr. Wolfgang Ullrich.
"That's why it's nice that we managed to retain all of our previous DTM drivers for Audi – including our three DTM Champions. In Nico Müller we've got a promising youngster as a new member of our squad, who will probably attract a few fans from Switzerland to the DTM. Plus, we're already very eager to see how Timo (Scheider), Edoardo (Mortara), Miguel (Molina) and Jamie (Green) will be gelling with their new teams," he added.
Audi Sport Team Phoenix
Mike Rockenfeller (reigning DTM champion)
Timo Scheider (moves from Audi Sport Team Abt Sportsline)
Audi Sport Team Abt Sportsline
Miguel Molina (moves from Audi Sport Team Phoenix)
Edoardo Mortara (moves from Audi Sport Team Rosberg)
Mattias Ekström
Adrien Tambay
Audi Sport Team Rosberg
Jamie Green (moves from Audi Sport Team Abt Sportsline)
Nico Müller (new to DTM)